Indian Wells: Serena and Venus Williams meet after 14-year tournament boycott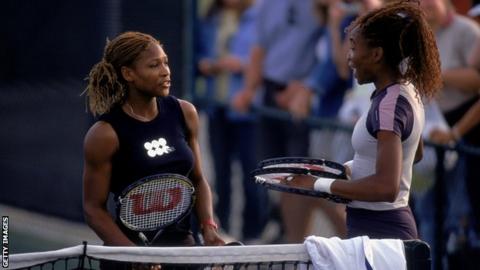 Serena Williams will play her sister Venus at Indian Wells, 17 years after a scheduled meeting at the tournament sparked a 14-year boycott.
The 29th professional contest between the pair will take place in the first match of Monday's night session.
Venus has only beaten Serena once since 2009, but the younger sister has just returned after becoming a mother.
The two were due to meet in the semi-final of 2001, but Venus Williams withdrew five minutes before the match.
She cited tendinitis in her knee as her reason for pulling out of the tournament.
And when Venus, accompanied by her father Richard, took her seat to watch her sister play Kim Clijsters in the final two days later, the atmosphere turned sour.
There was booing and jeering, and some of Serena's unforced errors where cheered as she claimed the title in three sets.
"I literally didn't even think about it," Serena replied, when asked whether she was happy the match would finally get to take place.
"That's, you know, totally gone out of my mind. First of all, 17 years ago seems like forever ago."
Williams has said she spent "hours crying in the Indian Wells locker room" after the final, and would not return to the tournament until 2015.
In an essay for Time magazine just before her return, she made it clear she feels much of the vitriol was racist in nature.
"The false allegations - that our matches were fixed - hurt, cut and ripped into us deeply. The undercurrent of racism was painful, confusing and unfair," she wrote.
Venus ended her boycott a year later, and now they are set to meet for a place in the last 16.
Venus, seeded eighth, reached the Wimbledon final, the US Open semi-finals and the championship match of the WTA Finals while Serena was away from the tour.
But Serena says she did not watch a single point on the grounds she gets too nervous.
"I never won a match sitting down," she explains.
"So if she makes a mistake, a little bit of me dies. So, yeah, I didn't watch any."