Novak Djokovic: Former world number one splits with head coach Andre Agassi
Last updated on .From the section Tennis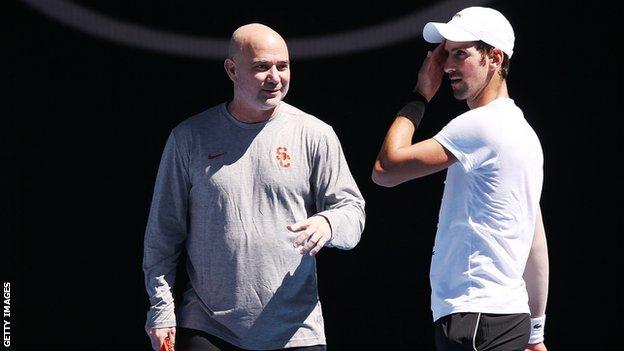 Andre Agassi says he and Novak Djokovic "agreed to disagree" too often and he has left the former world number one's coaching team.
Eight-time Grand Slam champion Agassi, 47, became Djokovic's head coach last May.
"I wish him only the best moving forward," American Agassi said.
The 30-year-old Serb has also parted company with coach Radek Stepanek, the Czech former world number eight who joined part-time in November 2017.
Agassi added: "With only the best intentions, I tried to help Novak. We far too often found ourselves agreeing to disagree."
Djokovic has struggled to rediscover his 12-time Grand Slam title-winning form following a lengthy setback with an elbow injury.
After completing a career slam with victory at the French Open in 2016, Djokovic was unable to retain his title at Roland Garros last year, before retiring injured in the Wimbledon quarter-finals.
After having more surgery on his elbow following the Australian Open, he returned to court last month but fell to successive first-round defeats at Indian Wells and the Miami Open.
Djokovic says he will have a short holiday with his family, before beginning preparations for the clay court season and upcoming tournaments.
A statement on his official website said: "The private relationship with Stepanek was and will remain great, and Novak has enjoyed working with him and learning from him.
"He remains grateful and appreciative of all the support he has received from Radek during the last period.
"Novak remains focused and eager to come back stronger and more resilient from long injury break that has affected his confidence and game.
"He is continuously and passionately looking for new and different ways to regain winning form."