Fed Cup: GB captain Anne Keothavong on Johanna Konta, Heather Watson & youngsters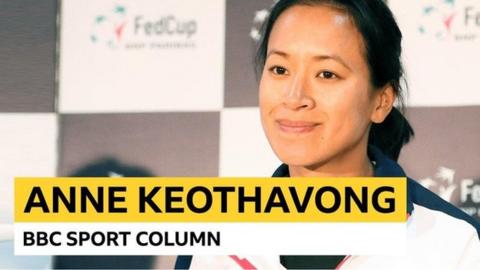 Naturally everyone in the Great Britain team is disappointed after the narrow 3-2 Fed Cup defeat in Japan extended our 25-year wait to play in the World Group.
It didn't go our way this time but that's not to say it won't go our way next year. You still have to draw on the positives. The team spirit was good, the girls got on with each other fantastically well.
An event like this takes them out of their comfort zone in many ways. As much as they enjoy it, it is different to how they operate on a week-to-week basis.
Now that I have stepped away from the game as a player, I like to remind our players that these are weeks you will remember for the rest of your life.
I want to be able to help them create memories that they can look back on with pride and know that they had a good time and enjoyed being part of a team and doing something different together with different people.
Also, it's important to remind them to keep everything in perspective. The result didn't go our way but they're fit, they're healthy.
Weeks like this remind me of Elena Baltacha, my former Fed Cup team-mate who died in 2014, and what she brought to the team and her spirit.
The players are doing something they love and they are in a privileged position. Let's try and stay as upbeat as possible, get together next time and make it happen.
'I couldn't ask for more effort from my players'
Johanna Konta was well prepared for her battle against Japan's rising star Naomi Osaka in Sunday's opening singles match.
We spoke about the gameplan on Saturday night, that's the routine I usually go through with both players after dinner.
I speak to the singles players individually so we are on the same page tactically about how they want to play the match, what to expect and the key words for me to use when I'm sat on the side with them.
Jo is the ultimate professional, she takes a high level of intensity to the court and she was really impressive against an in-form player, who recently won her first WTA Tour title at Indian Wells.
I guess everyone's spirit was high after her performance - she put us in a great position with her victory. Heather Watson led 5-3 and had set points in her match against Kurumi Nara - she put herself in a good position but came up short.
Maybe you could say the lack of wins recently had an effect, but even though she was 3-0 and 5-3 down in the second set, she fought back.
That's all you can ask for as a captain - that your players try their absolute best when they're out there on court. The rest you just have to accept.
'Heather was ready for the doubles'
At 2-2 after Heather's singles match I had to have the talk with her.
Having spoken to Heather, Jo, Anna Smith and Gabi Taylor at the start of the week, everyone was aware Jo and Heather were going to be my first pick for the doubles if the tie was still live.
I think it was important to have that conversation at the start of the week so players could prepare and know where they stand.
There was no hesitation from Heather after her singles defeat. She wanted to play in the doubles.
She was able to show me she was really up for it and that gave me confidence she could produce something special with Jo, who was ready to go.
After a nervy start from our pair, the way they finished up the first set was impressive.
At the start of the second set, we had game points and break points but it didn't go our way. That's the nature of sport.
Again the girls kept battling and the third set was anyone's. Physically, Heather was struggling and the turnaround was tight - 30 minutes between the singles and doubles - but we've been in that position before, she knew what to expect, I knew what to expect.
We came up short and the Japanese team deserved to go through. The support was fantastic for those British people who made the journey out here - it's pretty impressive because it's not an easy place to get to.
'Fed Cup promotion incredibly tough'
After the tie, everyone was naturally quiet in the team room and everyone was down. We came here with one job in mind and couldn't quite get there.
We haven't played in the World Group stage since 1993 and lost three other play-off ties - all where we were drawn away - in the past seven years.
You have to pick yourself up. It is a long wait until the next opportunity and hopefully there is time for younger players to raise their level and compete for a place in the team.
We will keep trying.
There are two buses back to the hotel from the venue, I was on the bus with Jo and for those of us on that bus there was a lot of talk about the Fed Cup format and potentially which teams could be back in Europe/Africa Group I.
It's an incredibly tough group to get out of. Only two teams out of 14 have the opportunity to go to the play-off.
Fed Cup Europe/Africa Zone explained
The Europe/Africa Zone is one of three continental zones in the second tier, underneath the two groups in the World Zone
Great Britain have competed in the Europe/Africa Zone Group I since 2005
In the current format, 14 teams compete across four groups in a round-robin tournament on the same weekend
The four group winners progress to a knockout phase, with the winners of those two ties qualifying for the World Group II play-offs
The World Group II play-offs contain eight teams across four straight knockout ties
The winners compete in the following year's World Group II and the losers go back into their continental zone
For the general public, it's a difficult format to follow and it's not in line with the Davis Cup, which is the most frustrating thing with Fed Cup.
I didn't want to be back there but we'll keep trying and that's been the motto of the team - we keep fighting, we keep trying and one of these days hopefully we'll be able to have a home tie and play in front of a home crowd and experience what everyone else has in the last four times we've been in this situation.
'Weeks like this will help younger players'
The future is promising. Gabi Taylor, who is 20 years old and ranked 177th in the world, has won a lot of matches recently and now it's time for her to step up and keep improving that ranking.
I do think there is potential there but our young players still have a lot of work to do. They've won matches at ITF level but they need to be able to raise their game at a higher level.
Weeks like this will help Gabi, she can draw on players like Heather and Jo and their experience, their professionalism and how they operate.
It's a great opportunity for someone like her to really learn and take confidence that she been able to practise with these girls and keep up with them. That should also excite the other players.
I'd love to be in a position where competition is really tough to get on the team.
It's a chance for the likes of Gabi, Katie Boulter, Katie Swan, Harriet Dart and Katy Dunne to keep working hard, get their heads down and get on with it and feel like they have a shot at being part of the team.