Andy Murray injury comeback likely to be delayed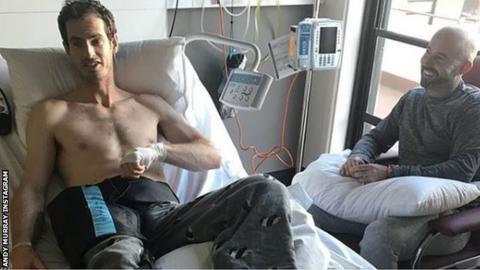 Andy Murray's recovery from hip surgery has run into difficulty, and it seems increasingly unlikely he will be able to make his comeback in Loughborough this month.
The double Wimbledon champion is not thought to have done very much at all on court in the past two weeks.
Murray, 30, has also pulled out of two corporate appearances.
The Scot has not played competitively since Wimbledon last year and had an operation on his right hip in January.
Publicly, he has been targeting the grass court season for a return to the tour. But privately there had been high hopes he would be able to play in the new ATP Challenger Tour event in Loughborough, which begins on 21 May.
Sources suggested Murray had been ahead of schedule after returning to the practice courts in late March, although his team has always stressed that recovery will be a slow process with inevitable bumps in the road.
Murray himself said in January he would only return to competition when completely fit and ready.
The first event Murray has publicly committed to is the grass court tournament in Rosmalen in the Netherlands, from 11 to 17 June.
On Monday, he was confirmed on the entry list for the Fever-Tree Championships at The Queen's Club the following week, but both appearances must now be in some doubt. Wimbledon begins on 2 July.
Murray had been training at the All England Club in Wimbledon, but first put his hip through its paces at the Mouratoglou Academy in Nice, in southern France.
He posted a photo of a session with the Scottish junior Aidan McHugh on Facebook soon after.
A picture of Murray dipping into an ice bath followed two days later, but his social media posts since have preferred to focus on topics like the NBA play-offs and the fight against malaria.
Murray's progress has remained a closely guarded secret, although Rafael Nadal did say in Monte Carlo in April that he had spoken over the phone to his long-time friend and rival.
"I have been in that situation," he told reporters.
"I know how tough and frustrating it is when you work every day and you don't see the light of how to improve. But then one day trying things, trying treatments, one day things are going better, no?
"If he is healthy, he will be back in a position to fight for the most important things. But as with everybody, you need to be healthy. Without health, you can play but is almost impossible to play at the level that Andy wants to play."
Murray still has five weeks before he is due to play in Rosmalen, but his absence in Loughborough later this month will also come as a blow to the Lawn Tennis Association.
Without Murray, Lucas Lacko is likely to be the only top 200 player in the field. The Slovak has already triumphed in Glasgow, in the first of two Challenger events organised at short notice by the LTA.
The tournaments will be "invaluable in providing high-quality match experience" for British players, the organisation promised - but in Glasgow there were only seven players inside the top 300, and no-one from Britain survived the second round.
The LTA decided to stage the two events after discussions with Murray's team, as the LTA chief executive Scott Lloyd explained earlier this month.
"It wasn't just about Andy, it was about our other players, too," he said.
"You don't know who's going to benefit from them, until you're going through them. Secondly, trialling something like these two events is valuable to me as to how we think about developing the calendar more broadly in the future.
"In terms of the investment, the costs that we incur across the sport, we have to take those decisions very very carefully, so make no mistake - we do so.
"We have managed to work with a number of different partners that have assisted in putting the tournaments on. I have not spoken to Andy about financing the tournament."