French Open 2018: First open winner Nancy Richey on prize money & Paris riots 50 years ago
Last updated on .From the section Tennis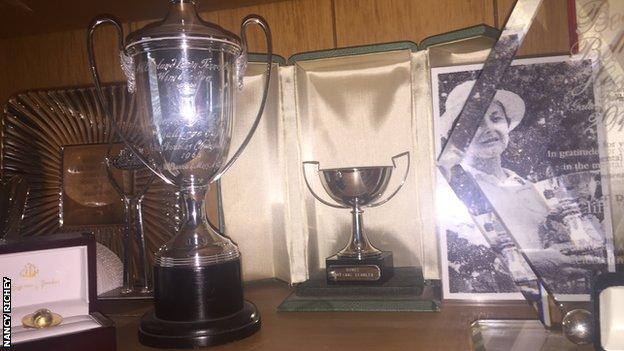 2018 French Open
Venue:
Roland Garros, Paris
Dates:
27 May-10 June
Coverage:
Daily live radio and text commentaries on BBC Radio 5 live and the BBC Sport website
When Nancy Richey won the 1968 French Open, she never got the prize money, could not ring her parents for the entire tournament and had to change hotels three times in Paris.
The American's victory over Briton Ann Jones in the final should have earned her 5,000 francs (£422 - the equivalent of about £7,000 today) - the first time prize money was offered at a Grand Slam event - but because she, like most of her compatriots, was still an amateur, she could not accept it.
Instead, she received her $27 (£11 at the time) daily allowance - several weeks later.
"It was really unbelievable," Richey told BBC Sport. "It disgusts me... [Americans] didn't get to play for the prize money in the first year."
She is the only amateur winner of a Grand Slam women's singles title since the start of the Open era - and is likely to remain so.
But the 75-year-old is not bitter and here describes how being an amateur had its advantages and how the strikes that paralysed France in May 1968 may have helped her win the title.
And she also explains why she forgave her mum for answering one piece of fan mail.
Amateur v professional era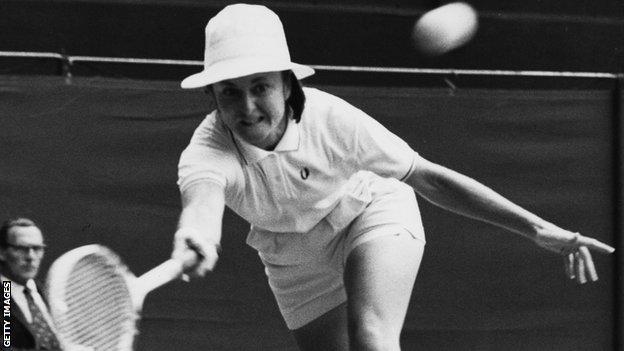 Having been unable to claim the money in Paris, a few weeks later Richey reached the final at Queen's, which was then a men's and women's tournament. Both singles finals were cancelled through rain and she was given a £250 shopping voucher.
"I would have put it in the bank, if I'd got actual money, but this was a voucher I had to get something with - I wasn't sure what I was going to do with it so I went to [London department store] Liberty's and picked out a set of china and had it shipped home," she said.
"They didn't call it prize money - I couldn't receive it. I guess we'd call it semi-prize money."
She says she has used the fruit-patterned dining set twice.
Richey did eventually turn pro and was a member of the pioneering 'Original 9' - players who broke away from the tennis establishment in 1970 and formed their own professional tennis circuit, which eventually led to the formation of the WTA Tour.
But before that she lived off the $27-a-day allowance she was given by her governing body, the USLTA.
"You could pay your hotel - not a great place - and your food. You scrimped and you got by," she said.
"You didn't make anything but it did pay for it. I was fortunate that my mum and dad didn't push me out - until I got married in 1970, I lived at home. It's a lot different to what happens today."
Richey believes one of the main reasons she won the French Open was because she was in much better shape physically than some of her rivals who had just turned professional, including compatriot and 12-time Grand Slam singles champion Billie Jean King.
"They were travelling, playing one-night things, I don't know if they even played full matches," she said. "They weren't able to really train or play like I was playing, and were not in as good a shape as I was in.
"I beat Billie Jean in the semis - the conditioning had a lot to do with it."
Pioneers of women's tennis
Like all Grand Slam events these days, the French Open offers equal prize money for men and women, with singles champions this year set to take home 2.2m euros (£1.92m).
But it may never have happened without Richey and the rest of the 'Original 9', who risked suspension or expulsion by the tennis authorities when they set up their circuit, partly in protest at the disparity between men's and women's prize money.
They all signed $1 contracts and within the next year more than 40 players were playing for over $300,000 in prize money. In 1973, their Virginia Slims Circuit became the Women's Tennis Association, which still runs women's tennis today.
"The 'Original 9' really started pro tennis for the women. I'm more than thrilled that we were the ones who got it to start. It was a special time," Richey said.
But does she wish she could have been a player on today's Tour, reaping the full benefit of the huge prizes on offer?
"No," she said. "At my stature - five foot three - I don't think there's any way I could compete with the six-footers who are playing today.
"I'm more than thrilled that we were the ones who got it to start. I'm happy - what we did was to get women's tennis where they were playing for lots of prize money."
And as the graphic below shows, if Richey had been allowed to accept her prize in 1968 she would have been able to buy 10% of an average-priced house in Britain, while this year's winner could buy more than eight of them.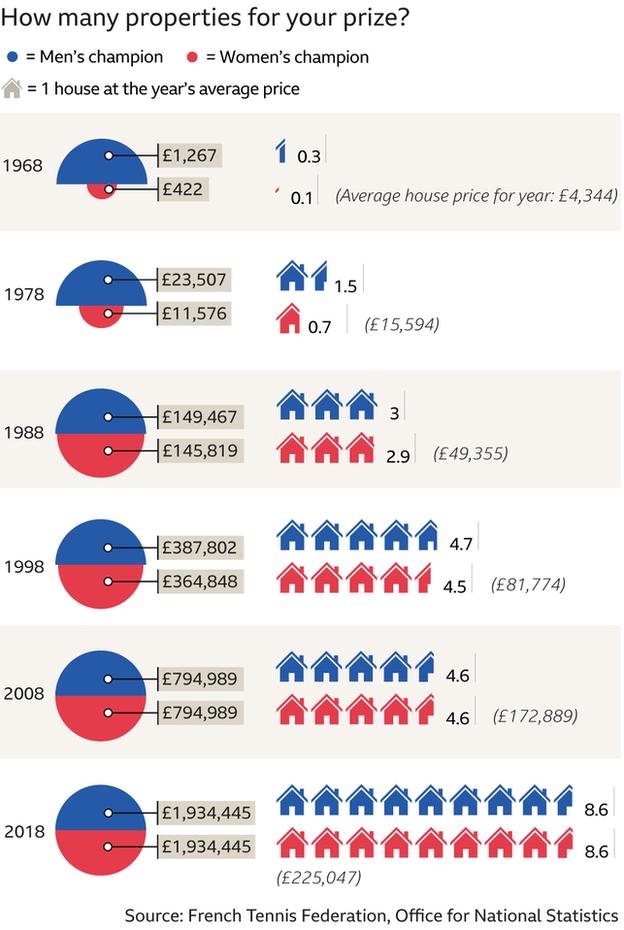 'It was like the dark ages' - Paris in May 1968
France was in the grip of civil unrest while the French Open was being played in 1968, and some players could not even get to Paris which led to many first-round walkovers.
Some of those who did make it to the French capital had been forced to be creative in their travel plans, including Richey's brother Cliff, who flew to Luxembourg and paid $100 for a 180-mile taxi ride to Paris with a couple of other players.
And once they were there, the impact of the demonstrations and general strikes was significant.
"As the weeks progressed the tournament kept asking us to move closer to the courts because the gasoline was running out in the official cars," said Richey. "I moved hotel three times.
"It was getting worse by the day after we got in there. The phones weren't working to call out of the country, garbage was piled sky high everywhere. And then right after I won, the strike broke and I could call home and tell my dad and mum that I had won the tournament. Amazing.
"It was like the dark ages. Not to be able to talk to my father, who was my coach for all my playing days, it was off the wall. It was the oddest tournament I ever played in."
Nevertheless, she would not change anything. In fact, she would go as far as to say the strikes had helped her because her brother could not get out of Paris and ended up staying on to coach her through the rest of the tournament.
"I'm really thankful for the strikes because I'm not sure Cliff would have stayed and he was as good in coaching as my dad was, so it was really a key thing to me winning the tournament," she said. "I have to hand him half the trophy at least because he really helped."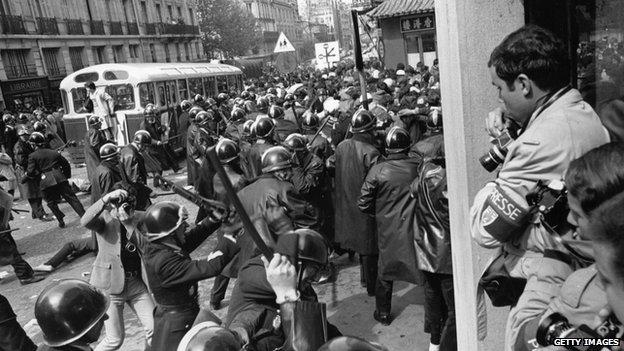 Fan mail and groupies, 1960s-style
Tennis players today have millions of followers on social media, who can pore over every 'like', emoji and selfie of their idols.
But in Richey's day, if you wanted to try to engage with your favourite player it had to be pen and paper.
She never replied to any of her fan mail but then her mum responded to a British girl called Mary in 1966.
"When I got home from Australia my mum was standing at the door," Richey recalled. "She says you're going to kill me - and Mary had written back so now it was my responsibility to write to Mary.
"Well, she's now my best friend."
Mary and one of her friends travelled to Paris to follow Richey's journey to the French Open title - no mean feat amid the transport strikes.
"Those were my groupies," she laughed. "They had a hotel eight miles from Roland Garros - they walked to the courts and back for two or three days during the tournament to watch me play. To walk eight miles to the court and back - 16 miles, I can't even conceive of it."
Tennis today 'a little bit boring'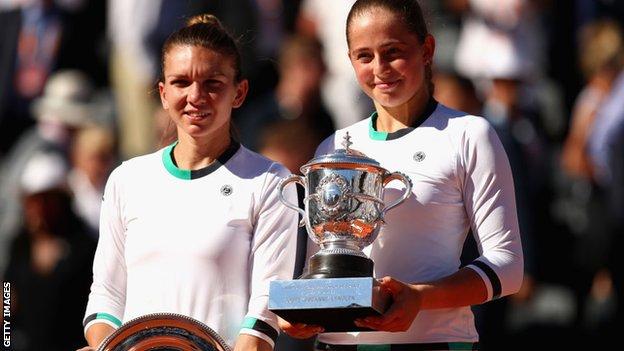 Richey has not played tennis for around 18 years after breaking her foot. These days she keeps fit with daily three-to-four-mile walks around a local park.
Perhaps a hangover from her playing days, she keeps a meticulous record of the number of miles she has clocked: "I've done 310 miles since 1 January."
She still watches a bit of tennis - but does not always enjoy it.
"The game today is 'boom, boom, boom - and boom' - there's no diversity in style, there's no serve and volley. A lot of times it gets a little boring to watch," she said.
But she will be tuning in to see whose name will appear on the Coupe Suzanne Lenglen 50 years after her own.
"I really would like to see [Simona] Halep win, simply because she has come so close so many times. She's kind of faded away in the key areas there so maybe she can get it together," she said. "And [Petra] Kvitova looks like she's having a good year."