Stan Wawrinka beaten on return from injury at Italian Open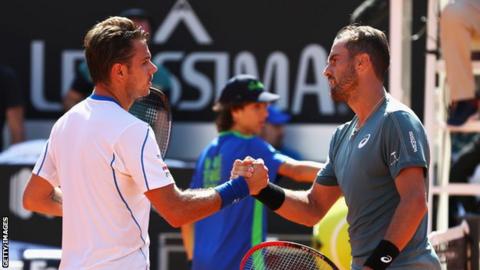 Stan Wawrinka was beaten 6-4 6-4 in the first round of the Italian Open on his return from injury.
The Swiss three-time Grand Slam champion lost to 55th-ranked American Steve Johnson on the clay in Rome.
The 33-year-old sat out the second half of 2017 after knee surgery following his first-round exit at Wimbledon and has not competed since February.
"I really only started to play tennis again 12 days ago," said Wawrinka, who hit 30 unforced errors to Johnson's 17.
He returned at the start of the year but retired during a second-round match in Marseille in February, against then world number 193 Ilya Ivashka of Belarus, and has not competed since.
"I think when I came back in Australia [in January] it was quite clear I wasn't ready at all," said Wawrinka, who spent eight weeks on crutches following the surgery.
"But for me it's important to play matches to test myself playing against the top guys.
"I'm happy with physically where I am right now.
"I had a lot of hesitation with my game and it obviously makes a big difference in the way I move and the way I play."
The French Open, which Wawrinka won in 2015, begins on 27 May.