ATP: Men's tour likely to introduce shot clocks and reduced warm-up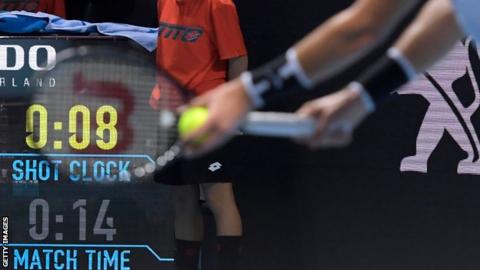 Shot clocks and reduced warm-ups appear very likely to be introduced to the ATP Tour - and possibly next season.
A number of innovations were trialled at the inaugural Next Gen ATP Finals in Milan last November.
First to four game sets, no advantage scoring or service lets and coaching via headsets were among the trials.
But it is a 25-second serving clock and a reduced warm-up which players can expect to face on tour in either 2019 or 2020.
The shot clock is set to be enforced at a Grand Slam for the first time during this year's US Open.
It was used in Australian Open qualifying and will also be in operation during French Open qualifying this month.
Wimbledon, which has opted not to use it this year, says it will adopt a "wait and see" approach.
Some leading players have voiced their concerns at the shot clock, with 16-time Grand Slam champion Rafael Nadal particularly unhappy.
ATP executive chairman Chris Kermode, speaking at the launch of this year's Next Gen Finals, said he thinks the proposed changes will happen.
"I think that's a good thing," he said.
"When we first started this we never committed to what date we would do any of these, because we needed to take a cautious approach.
"I think we can also look at the medical time outs and the toilet breaks, again to speed up play. I think we can get those done quite quickly as well.
"When it comes to the scoring of the game, that's getting into the ethos of the sport and that takes much longer because you do need everyone to buy into this.
"I personally loved it: what was incredible was the intensity from point one. But I'm doing this as a collective; I'm not running it as a dictatorship. So all the traditionalists don't need to panic that I am single-handedly going to do this. I personally like it, but we've a long long way to go until we do anything else."
The format for the second Next Gen Finals will be almost identical to the first, although the warm-up will be reduced by a further sixty seconds to four minutes, and players will be instructed to use a towel rail at the back of the court.
It is hoped this will further speed up play, and reduce the onus on the ball boys and girls to fetch and handle the players' sweaty towels.