Wimbledon 2018: Is Juan Martin del Potro the man to challenge Roger Federer?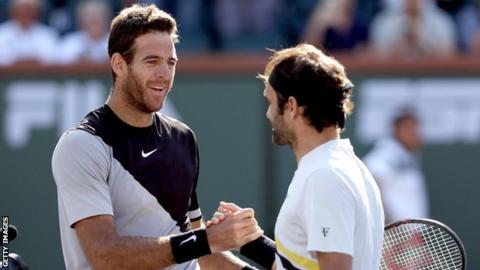 Wimbledon 2018 on the BBC
Venue: All England Club, Wimbledon Dates: 2-15 July
Coverage: Watch live on BBC TV, BBC iPlayer, BBC Red Button, Connected TVs and the BBC Sport website and app; Live commentary on BBC Radio 5 live and 5 live sports extra.
Juan Martin del Potro is one of only three men to have beaten Roger Federer this year.
By saving three championship points to win a testy Indian Wells final in a third set tie-break, Del Potro claimed his first ever Masters 1000 title.
It also served as a reminder that when fit and rested, the popular Argentine is perhaps the man most likely to challenge Federer and Rafael Nadal's recent Grand Slam hegemony.
"Rafa on clay, and Roger on grass: it's the toughest challenge for all the players on tour," Del Potro told BBC Sport.
"But I did well at the beginning of the season, and I know how close I am to them. But at the same time I feel very far."
At the 2009 US Open, aged just 20, Del Potro beat them both to win his sole Grand Slam to date.
A straight-sets semi-final win over Nadal was followed by victory from two-sets-to-one down against Federer, who had not lost a match at Flushing Meadows since 2003.
But just eight months later, Del Potro was undergoing right wrist surgery in Minnesota, and did not reach another Grand Slam quarter-final until 2012.
The wrist was strong enough for him to contest the longest Wimbledon semi-final in history - a match of blistering power against Novak Djokovic in 2013.
But there would be many trips to Minnesota still ahead. The left wrist was now the problem wrist, and Del Potro missed nine Grand Slam tournaments in a row as he underwent three further surgeries.
The real Del Potro started to re-emerge in 2016. Victory in a three-hour-plus semi-final with Nadal at the Olympics Games in Rio guaranteed him at least a silver medal, and Andy Murray then had to be at his brilliant and stubborn best to deny him gold over four hours.
Del Potro often looks shattered, but appearances - and that languid walk across the court - can be deceptive. He would go on to beat Murray over five hours in their pivotal Davis Cup semi-final rubber in Glasgow, and then recover from two sets down in the Croatian capital Zagreb to beat Marin Cilic and help Argentina to their first ever Davis Cup title.
There was another victory over Federer to savour in last year's US Open quarter-final, and then a run of 15 victories in the early part of this year as Del Potro won the titles in Acapulco and Indian Wells before reaching the semi-finals in Miami.
The 6ft 6in Argentine was, by his own admission, exhausted. So he took a five-week break from the tour which he said can at times be stressful.
"We have many good things on tour, but living in Argentina you must travel a lot," Del Potro said.
"It is long flights to get everywhere - and maybe you have to be for one month, or one month and a half, far from your house or from your people, and that could be the worst part of the job."
Del Potro likes to cook and to enjoy a traditional asado - barbecue - with friends and family when back home in Tandil, a town situated 245 miles south of Buenos Aires.
"I like to be in Tandil, and this is my simple life. Probably my happiest moments are when I am with them, and also sharing moments with my close people," he continued.
The 29-year-old is also a practising Catholic and he was very upset by the theft of a rosary blessed by his compatriot Pope Francis.
One of Del Potro's suitcases had been stolen as he stopped to sign an autograph in Paris before taking a train to London for the 2013 ATP Finals.
His faith, he believes, is a great help to him on court.
"Yes, a lot," he said. "I always try to stay positive during the games and I never give up during a match. Also when I was injured, I never give up doing all the treatments and that's helped me to keep fighting all the time."
The wrist surgeries mean Del Potro still cannot use his double handed backhand as consistently as he would wish, but he says he feels as if he might be in the best shape of his life this year.
He is still surprising himself, and not least at Roland Garros, where he reached the semi-finals to match his career high ranking of world number four.
"It is something special for me, for my family, for the people who were behind me all the time," he explained.
"I can get to semi-finals in Grand Slams in my worst surface, which is very important for my life, as well. And although the ranking is not my priority, when I'm so close to the first positions, it's beautiful.
"I see that those who are in front of me are the same as 10 years ago, and they are the best players in tennis history. So it's a beautiful image for me."
He had a groin problem before Roland Garros, and pulled out of last week's event at Queen's to rest on doctors' advice.
It can only be hoped that this big, friendly giant with a huge wingspan is at the peak of his powers at Wimbledon, as his thunderclap of a forehand echoes around Centre Court.
There would be very few more popular winners.