Love Island, travelling the world and being mentored by Andy Murray
Last updated on .From the section Tennis
Imagine you've just finished your education and it's now time for you to get a job.
On your first day, you may be assigned a mentor - an experienced and trusted colleague to advise and guide you.
For many of us, that mentor may take the form of "Janet from human resources" - a sweet parental figure in the office, but you probably won't be chatting about last night's Love Island.
Now imagine you are a young British tennis prospect and you discovered your mentor was going to be Andy Murray.
Well, that is exactly what happened to 19-year-old Katie Swan and 17-year-old Aidan McHugh.
The players recently signed to Murray's management company, 77 Group, and the two-time Wimbledon champion is now guiding them through the early stages of their careers on the tour.
BBC Sport went to meet them between training sessions at Wimbledon the week before the 2018 Championships began.
BBC Sport: Nice to meet you both! You are playing here at Wimbledon this year - Katie you have received a wildcard for the main draw, how did that feel?
Katie: Yeah, it's an amazing feeling. When I played here in 2016 it was a great experience but I didn't feel like I was really ready. But this year I feel much more prepared and that I can really give it a good go.
Have you decided what you might do with the prize money? Do you think you will treat yourself? (First round entrants receive £39,000 - win or lose.)
Katie: No, probably not! It will all go towards my coaching and travel. Being a professional tennis player is relatively expensive.
Aidan, (who will be playing in the junior boys championship), you seem to have a big brother/little brother relationship with Andy. He seems to comment on your Instagram a lot...and he's pretty savage!
Aidan: Yeah, he does tend to tear into me with some of the comments. I don't think there is any maliciousness in it though - it's all sarcastic! Katie gets a nice comment every now and again off him but that's just the way it is I guess.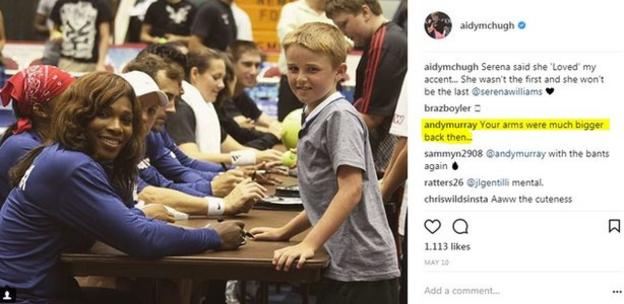 Katie: Yeah he does just tend to abuse you!
What does this mentoring role involve, Katie?
Katie: Well if we need any help or advice with anything we just send him a text and he does everything he can to help. He is such a nice guy and he's so easy to talk to so I definitely feel comfortable to text him when I need to. It's really nice to have someone who has been there and done everything. He is a real inspiration to me.
How often do you speak to him?
Katie: We are in touch every couple of weeks. We did a team dinner last week in Eastbourne.
What do you talk about at a team dinner? Is there much tennis chat?
Katie: No, not much really. We were talking about Love Island. It's a big topic right now!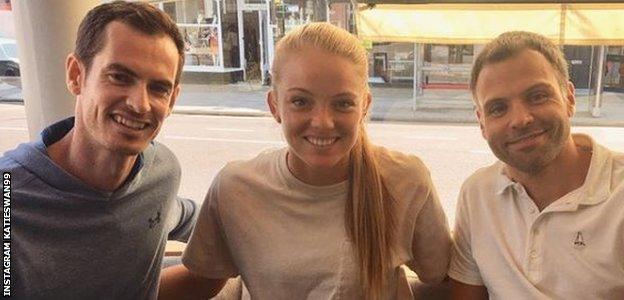 Ahh yes, so who is your favourite couple?
Katie: Dani and Jack definitely!
Aidan: Yeah, for sure they are the strongest couple but there are others who have some good banter. It's quite funny to watch.
Do you guys manage to fit in dating at all?
Katie: Well I've had a boyfriend for two-and-a-half years so we are going strong! He is also a tennis player [British player Joel Cannell] so he travels a lot too. We don't see each other often but we make it work....Anyway, Aidan?!
Aidan: Ha! Yeah obviously, one good thing I would say is, you are playing with the same people every week so the boys and girls all know each other.
Katie: That's a very political answer Aidan...
Aidan: Yeah I know what I'm doing, it's not my first time answering that question.
Well navigated. So what is the best thing about being on tour?
Aidan: Getting to travel around the world I'd say.
Katie: Yeah, you get to see so many amazing places and meet interesting people and we are getting to do what we love
And what's the worst thing?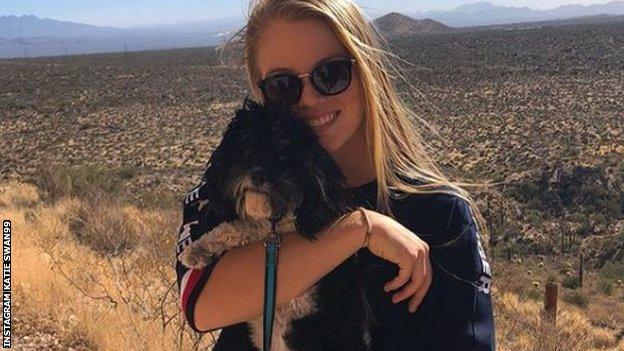 Aidan: Travel and jet lag is also the downside.
Katie: Being away from home and missing my dogs is so hard. I have four of them. They are a good bunch!
Aidan: Yeah I've got a cat too - Oscar.
Is there anything you feel you are missing out on?
Aidan: Well, my friends from school have just finished so they've just gone on a massive three week holiday which is pretty nice for them.
Katie: Same. During the summer, my friends go travelling and go away together. It's tough but I would much rather be here at Wimbledon.
Talk to us about tennis - what do you want to achieve in the game?
Katie: The end goal is winning Grand Slams, 100%. Short term though, I have just recently got my ranking up enough to be in the qualifying for the US Open in New York so I want to play my best tennis there.
Aidan: I'd say the same but getting to number one would be amazing too. Doing that takes so much consistency - you can't just have a couple of good weeks, you have to be doing it the whole year. But right now, I am just trying to get my ranking up. I want to keep improving and do well at some of the ATP Challenger tournaments.
So as elite athletes, your fitness is key but we often read people your age feel a lot more pressure than previous generations about body image. Is that something that you have experienced?
Aidan: I have read a few things about this but I'd say we are quite lucky - we play a lot of sport and always have done from a young age so appearance has never bothered me.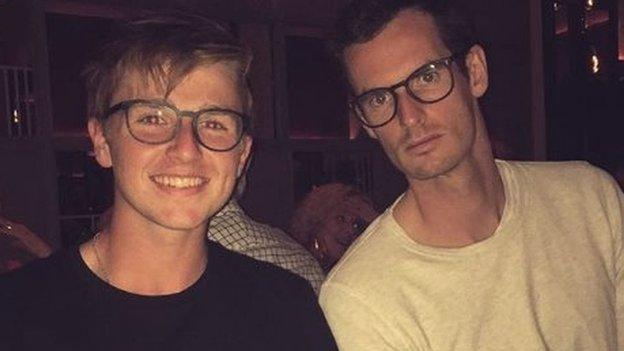 Katie: No I personally don't feel any added pressure other than to look after myself in terms of my health. I try to eat the right things and get enough sleep. I don't think worrying about what your body looks like should be the biggest thing - it should be yourself and your health.
It's common for social media to heap pressures on millennials. Will you stay active online during Wimbledon or will it be a hindrance?
Katie: I will definitely stay on there. It's nice to take your mind off tennis during the Championships.
Aidan: Yeah of course. I think it's quite fun during tournaments.
Are you ever worried about the negativity some people receive online?
Katie: No. Honestly it's pretty funny when you read some of the messages. I would never take it to heart.
Who is your favourite account to follow on Instagram?
Aidan: Conor McGregor. I love his posts.
Katie: The Love Island account!
Aidan: Oh that's embarrassing!
Follow Katie and Aidan's progress through Wimbledon on BBC Sport online.