Andy Murray: No regrets over missing Wimbledon; Djokovic could win it
Last updated on .From the section Tennis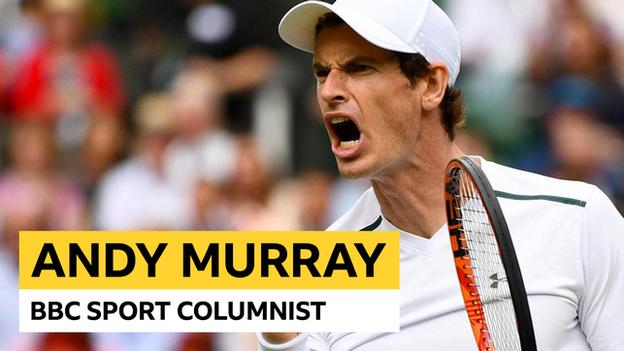 Andy Murray is not playing at Wimbledon this year as he continues his recovery from a hip injury, but he has been at the All England Club this week and will be co-commentating for BBC Sport on Wednesday.
In his regular BBC Sport column, the 31-year-old Scot talks about his fitness, his preparations for the American hard-court season, why he thinks Novak Djokovic can win Wimbledon, and not asking Tim Henman for commentary tips…
Not playing Wimbledon was the best decision I could have made - I have no regrets about it.
Last year I came in when the hip was bad, managed to get through to the quarter-finals but ended up missing a whole year because of it.
I didn't want to go in this year, potentially play four or five matches, and do any damage.
Obviously I was very disappointed I wasn't able to play, but I wasn't going to win the tournament and I wasn't well enough prepared.
It was a hard decision but a smart one.
The positive things were being able to spend some more time with the family while I'm here at home, and being able to practise on the hard courts.
As soon as I got on the hard courts I felt better. When you're coming back on an unstable surface you worry about every step.
So I felt more comfortable and hopefully that will help my movement and free up the hip. The impact on a hard court is greater than on grass but it felt more positive.
My plan is to play in Washington, which starts on 30 July.
I'm going to be here in London for the next 10 days, practising on the hard courts, and then I've got a friend's wedding.
I'll be going to that and then heading over to the States, having a week's training either in Washington or maybe Miami before getting back on the match court.
Feeling better than I did at Queen's
I've been practising since last Monday, so when the tournament started it felt a bit odd because I was practising about 10 minutes away in Raynes Park.
I feel good and a lot better this week than I did at Queen's a couple of weeks ago, so that's positive. Hopefully it keeps going the same way.
I've not been playing more sets than I was in the run-up to Wimbledon, I've just been getting used to the hard courts again.
I practised with Thanasi Kokkinakis on Tuesday and I'm practising with Jeremy Chardy on Wednesday so I have got some good sessions lined up over the next few days.
Then hopefully I will start playing more sets towards the end of next week.
Conditions perfect for Rafa
I've been following the Championships, of course, although I thought it would be harder watching than it has been.
I haven't watched every match but when I've finished my training I've watched a lot - I saw Juan Martin del Potro playing Gilles Simon, Rafael Nadal against Jiri Vesely, Kyle Edmund against Novak Djokovic - pretty much each day I've watched some and seen what's going on.
The conditions are perfect for Rafa right now.
When it is hot like this, the courts are hard and the ball bounces up so he gets more movement with his serve as well. With the problems he's had with his knees, the ball bouncing up higher makes it is easier on his body too.
In the top half of the draw, Roger Federer has a brilliant record against all of the guys. He looks like he is playing extremely well and he is moving well.
Djokovic winning Wimbledon would not surprise me
Novak could beat both Roger and Rafa. From what I have seen in the past couple of days, he looks to be playing really, really well.
He's not been in the latter stages of major events so much recently, Queen's was his first final in almost a year and it looked like he had doubts in that match against Marin Cilic.
But I think his level is back to where he wants to be and mentally he is where he needs to be.
Novak said the mental side has been difficult for him. Last year he suffered from a slight dip in motivation which is normal because of what he achieved in 2016, when he won the French Open to complete the career Grand Slam.
It must take an incredible amount out of you. Winning the French Open must have been huge for him but then where do you go next?
Maybe the injury and being away from the sport helped him realise how much he misses it and what it means to him.
It wouldn't surprise me if he went on to win this tournament.
I tell Henman he talks rubbish on TV!
On Wednesday I will be commentating on one of the men's quarter-final matches for BBC TV.
I've done bits and pieces on radio before but not a whole match. I've not had any tips from Tim Henman - I would get tips off someone different. From one of the experts!
I'm always messaging him when he's commentating, telling him he's talking rubbish! Of course, that's a joke.
Who is my favourite commentator? I like listening to Mark Petchey. I know him well, he coached me, and I think he is knowledgeable about the game.
I've not had any tips from him either - I might give him a text later. I'm a bit nervous about it to be honest.