Serena Williams: Wimbledon finalist at 36 and a mum - how has she done it?
By Sonia Oxley
BBC Sport at Wimbledon
Last updated on .From the section Tennis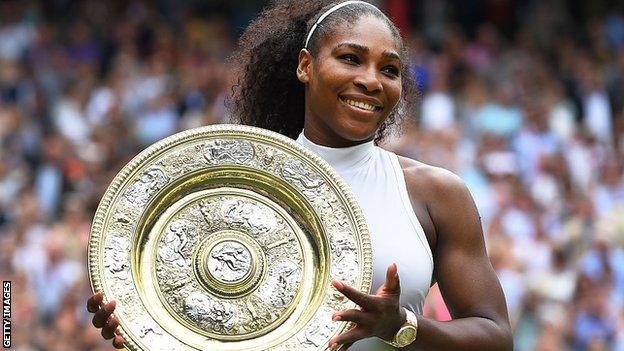 Wimbledon 2018 on the BBC
Venue:
All England Club, Wimbledon
Dates:
2-15 July
Coverage:
Watch live on BBC TV, BBC iPlayer, BBC Red Button, Connected TVs and the BBC Sport website and app; Live Radio 5 live and 5 live sports extra commentary; Text commentary online.
Serena Williams is one win away from an eighth Wimbledon singles title that would complete a fairytale return to tennis.
But as the American prepares for Saturday's final against Germany's Angelique Kerber, we ask how it is possible that a 36-year-old who says she "almost died" in childbirth 10 month ago is on the verge of a record-equalling 24th Grand Slam singles title.
How has she done it, what does that say about the state of the women's game, and how can Kerber beat her?
The S Factor: Aura and intimidation
The mere thought of facing Williams is enough to put some players off their game before they have even started.
When American 10th seed Madison Keys lost her third-round match to Evgeniya Rodina, she admitted she had been distracted by the prospect of coming up against Williams in the next round.
"She certainly has a presence and an aura - just mentioning her name, people are easily intimidated by her before they have even stepped on court to play against her," Britain's Fed Cup captain Anne Keothavong told BBC Sport.
Her semi-final opponent Julia Gorges spoke of it being an "honour" to play her, while fourth-round opponent Rodina said she was her "idol".
However, this does not come without its problems for Williams, who says opponents always bring their best game against her.
"That's what makes me great: I always play everyone at their greatest, so I have to be greater," said Williams, who has won 20 matches in a row at Wimbledon - including her 2015 and 2016 titles, before missing last year while pregnant.
A great playing even better is hard to beat.
Fitness: 'She's not human'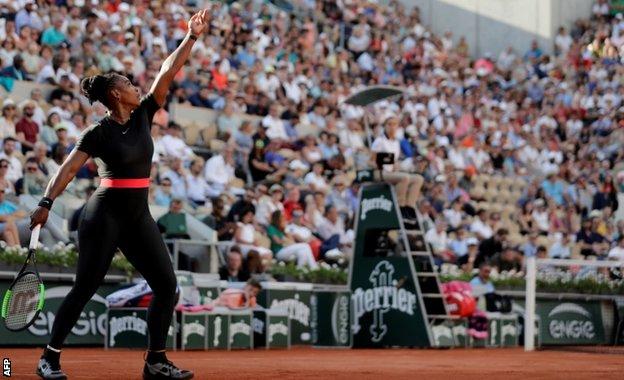 Williams was bedridden for six weeks after giving birth to daughter Alexis Olympia - she had an emergency caesarean section, which is major abdominal surgery, followed by a series of complications including the wound "popping open" because of a pulmonary embolism, and a swelling of clotted blood in her abdomen.
Yet she was back in the gym in November and on the tennis court in December at an exhibition event. She played in the doubles dead rubber of the United States' Fed Cup tie in February before returning to competitive singles in March. Wimbledon is just the fourth tournament of her comeback.
"I had my second child two weeks after she had her first and the thought of being out there competing with the very best and being at peak fitness level - I just can't get my head around that," Keothavong said. "What she is doing is incredible and just too good."
And let's not forget she won the 2017 Australian Open while eight weeks pregnant.
"She is not a human, she is a hero," said 2013 Wimbledon champion Marion Bartoli.
Williams would not disagree - she said she felt like a "superhero" wearing a black catsuit at the French Open, while the flesh-coloured tights she is wearing here would meet a comic-book heroine's approval.
But there is a serious side to these outfits: the compression tights and sleeves are worn to prevent blood clots by improving blood flow, and she says it means she can "play without problems".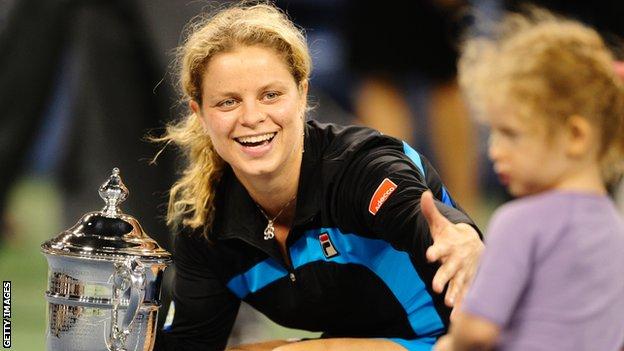 Mentality: 'She's a real warrior'
It is not just the fact umpires address her as "Mrs Williams" that marks the fact things have changed for the former world number one.
Her once dull news conferences have been livened up by her willingness to talk about being a mum, candid descriptions of her childbirth complications, and being upset at missing her daughter's first steps because she was training.
And she has also seemed more relaxed because she has put no pressure on herself to win, saying she wants titles but does not need them.
"It doesn't matter if you're a tennis player or a working mum, the balance can be a struggle." said Kim Clijsters, who was the last of three mothers to win a Grand Slam title. She won the 2009 and 2010 US Open and 2011 Australian Open titles after giving birth in 2008.
Williams is aiming to become the fourth - but she is 10 years older than Clijsters was when she achieved the feat at the 2009 US Open, and her daughter is eight months younger than the Belgian's was.
Among all the added pressures of motherhood, Williams has found the mental strength to win matches, and in the case of her quarter-final against Camila Giorgi to fight back from a set down.
"What is impressive is that she still has the will to compete and that desire to win, that shows a lot from her - she is a great champion," 1994 Wimbledon champion Conchita Martinez said.
Pat Cash, the 1987 men's singles champion, said: "I think it just shows how mentally strong she is. That for me is the difference - she's a real warrior - that's to be admired more than anything else."
The surface: 'It's very difficult to take her to rallies on grass'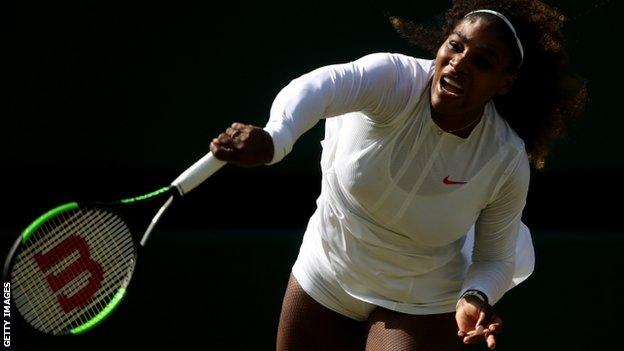 Williams is helped at the All England Club by the fact her power game is perfectly suited to grass and because the rallies are shorter she does not need to expend as much energy as on clay, which is a much slower, energy-sapping surface.
"She can rely a lot more on her serve and return of serve - it's very difficult to take her to rallies on grass so that's why she is more than ever the favourite here," Bartoli said.
At this year's French Open - the only Grand Slam played on clay - she reached the fourth round but pulled out of her match with Maria Sharapova because of a pectoral muscle injury that affected her serve.
"I don't think she's physically got the fitness that she had but she's the best competitor in the game, she's got the best all-round shots in the game with the most power," Cash told BBC Sport.
"And she can get away with it here on the grass where the courts are quicker and you win more points.
"On the clay she struggled and even the US Open [hard court] she might find it a bit tougher but it's easier for her to win on these courts."
What is the state of women's game?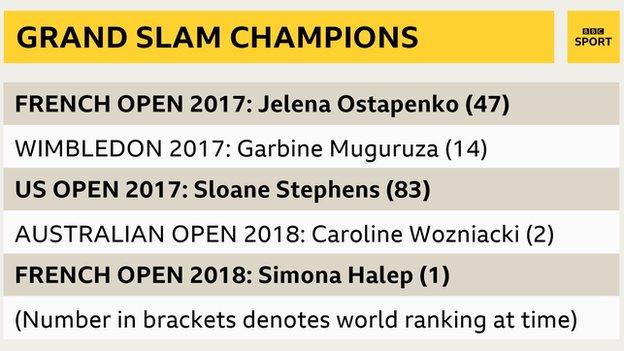 Since Williams stepped away from the game after winning the 2017 Australian Open while ranked number one in the world, the rest of the leading women have been playing pass the parcel with the Grand Slams and top ranking.
There have been five different winners of the five majors since then - two of whom were ranked 47th (Jelena Ostapenko, 2017 French Open) and 83rd (Sloane Stephens, 2017 US Open) at the time - while the same number of players have held the number one ranking, including Kerber.
At Wimbledon this year there were many early round upsets for the leading players, with none of the top 10 seeds making the quarter-finals for the first time in the Open era.
To the outside world, these have been "shocks" but for those heavily involved in the women's game it has barely raised an eyebrow.
But is this because of the strength of the women's game or a lack of quality at the top?
"I certainly believe it's a strength in depth," Keothavong said.
"We've seen that coming over the past few years. I don't think what has happened here at Wimbledon this year is a huge surprise but you could also argue that there is a lack of consistency amongst the very best in the women's game."
Cash, who coaches American world number 16 Coco Vandeweghe, agrees: "The women's circuit is very, very even. If you take Serena playing on grass out, then anybody can win."
How do you beat her?
Two-time Grand Slam champion Kerber, 30, has faced Williams only once on grass - in the 2016 Wimbledon final, which the American won 7-5 6-3.
"When you face Serena you know you're going to face the greatest challenge in tennis," said Bartoli. "Beating her is one of the biggest achievements along with winning a tournament."
The Frenchwoman knows what it takes to beat Williams at the All England Club, ousting the defending champion in two sets in the fourth round in 2011.
"That day I remember having the best service of probably my entire career. I was not even trying to serve a second serve because that was pointless - so I was just going for first serve constantly," she said.
"If I was missing my first serve I was going for another first serve because if you serve under a certain speed she is just going to expose that constantly and you give her so much confidence that it is pointless.
"And frankly it was probably a little bit of luck - a lot of luck that I was able to win against her here."