Wimbledon: Kevin Anderson calls for change to Grand Slam deciding set format
By Saj Chowdhury
BBC Sport at Wimbledon
Last updated on .From the section Tennis142
Kevin Anderson called for a rethink of the format of final sets in men's Grand Slam competitions after winning an epic Wimbledon semi-final on Friday.
A fifth and deciding set must be won by two clear games in three of the four majors, with the US Open the exception.
"I hope we look at this because you don't feel great," Anderson said.
"I hope this is a sign for Grand Slams to change."
All England Tennis Club chief executive Richard Lewis said a tie-break in the final set would be considered, but added: "There is a balance to be struck.
"When the dust settles, the championships have finished and we have the chance to reflect, just like everything else we will give it some thought and not make a hasty decision," he told BBC World Service's Sportshour.
"We may have some sort of tie-breaker at some stage of the final set, but I'm not certain we will.
"We will consider the views of the players and Kevin's comments and feelings are understandable. The point is that it is one match.
"It has its merits but also its downsides as well. Many people love those long final sets and it was only two days earlier when Roger Federer went beyond 6-6 and nobody was calling for a tie-break then. I don't think Kevin was either.
"It's not a decision to be made in haste."
Anderson, 32, will face the winner of the match between former champions Novak Djokovic and Rafael Nadal - that match only started at 20:08 BST and when it was suspended at 23:02, the Serb had taken a two sets to one lead.
Anderson said: "Obviously I'm in a nicer spot that I've put myself through to the final. I do get to recover. It's not ideal for them having to come back and play tomorrow."
It was the second-longest match at Wimbledon, falling short of the 11 hours and five minutes that it took for Isner to beat France's Nicolas Mahut 70-68 in the fifth set in their first-round match at Wimbledon in 2010.
"I have to recover as much as I can for the final now," added Anderson. "It will take time to process it but I'm in the final of Wimbledon and that's a dream come true."
Isner also felt the rule should be changed, saying: "I personally think a sensible option would be to have a tie-break at 12-all.
"I think it's long overdue. We're out there playing for seven hours. It's tough. I'm a proponent of changing that rule, for sure."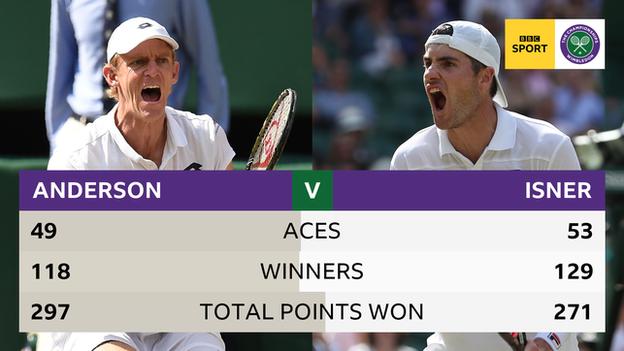 Henman & Becker back fifth-set rethink
Former British number one Tim Henman believes Wimbledon will discuss the issue raised by Anderson.
"When we had the first Isner match [2010] we didn't think we would see that again," he told BBC Sport.
"But in the context of this game, it's going to be incredibly challenging for Anderson in the final. I think it will be on the agenda for Wimbledon to discuss after the championships.
"The South African will feel sore all over. I don't fancy his chances in the final."
Three-time Wimbledon champion Boris Becker said he hoped Anderson, who also beat Federer 13-11 in a fifth set in the quarter-finals, would be able to gather himself.
"We need him fresh and we need him recovered, we need him to give it his all," said Becker.
"It's difficult now because of all the hours he's played. We should definitely strongly talk about changing the format of the fifth set."