Davis Cup: Changes mean death of event - Tomas Berdych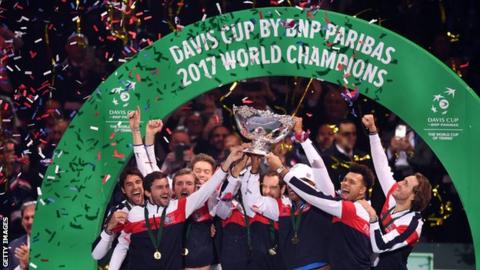 Controversial plans to end the Davis Cup's 37-year-old format will signal the death of the competition, says two-time winner Tomas Berdych.
The 25-year £2.15bn plan approved at the International Tennis Federation AGM on Thursday would turn the Davis Cup into a season-ending 18-team event.
But Czech Berdych, tweeting with the hashtag #ripdaviscup, said the history of the competition "will all be gone".
Former world number one Lleyton Hewitt called the decision a "disgrace".
"I am very proud to be a winner of the competition that was here for over 100 years," wrote 32-year-old Berdych, who was part of the Czech Republic team that won the Davis Cup in 2012 and 2013.
The Davis Cup, which was founded in 1900, has been played in the current format since 1981.
Sixteen nations compete in the World Group in knockout ties, while the remaining countries are divided into three regional zones.
It is played in February, April and September and November, with each World Group tie played over three days in a best-of-five tie of five-set matches.
Under the new format, which will start in 2019, 18 nations will compete in a week-long, round‑robin tournament.
The countries will be split into six groups with each group fixture comprising two singles and one doubles match, all over three sets.
"Sometimes it's more than a game, more than money," said 37-year-old two-time Grand Slam champion Hewitt, who won the competition with Australia in 1999 and 2003.
"Most of my biggest highs and toughest losses came in five-set epic Davis Cup matches in front of screaming home or away fans.
"For the International Tennis Federation to take that away from the next generation of future stars is a disgrace."
An increasing number of top players have skipped matches in recent years to ease their schedule, and both world number one Rafael Nadal and 13-time Grand Slam champion Novak Djokovic have backed reforms.
The Lawn Tennis Association (LTA), Britain's governing body, opposed the proposals, saying it was concerned about scheduling, financing and the division between member nations.
Tennis Australia, which from 2020 will host a revamped World Team Cup organised by the ATP in the first week of January, and the German Tennis Federation (DTB) also voted against the plans.
"It will kill the Davis Cup," said DTB vice-president Dirk Hordorff.
"You cannot make an event which is more or less an exhibition, after the Masters in November, and expect the players to come.
"The Davis Cup is the crown jewel of the ITF, and if you change something then you have to have a clear concept and a clear contract, but even board members, regional federations and big nations asked questions and they don't get the answers."
The plan is funded by an investment group led by Barcelona and former Spain footballer Gerard Pique.