Andy Murray column: US Open victory on return & fuelling on sushi, bacon and porridge
Last updated on .From the section Tennis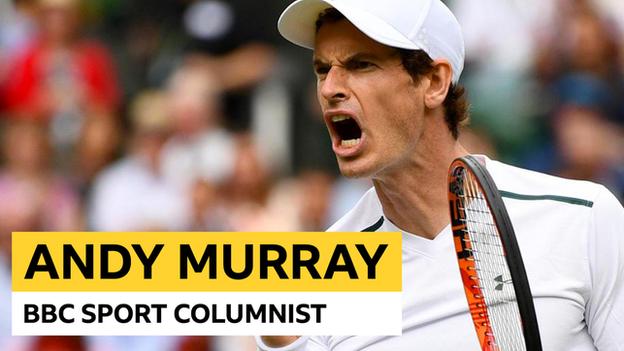 2018 US Open
Venue:
Flushing Meadows, New York
Dates:
27 August-9 September
Coverage:
Live radio coverage on BBC Radio 5 live sports extra; live text commentaries on the BBC Sport website
Andy Murray made his return to Grand Slam tennis with a four-set win against Australia's James Duckworth in the US Open first round on Monday. In his regular BBC Sport column, the 31-year-old Scot talks about post-match pain in his hip, fuelling his body in the heat and humidity of New York and eating sushi at 8:30am.
Being back playing at a Slam tournament for the first time in 14 months was a great feeling and I'm very happy I managed to mark it with a win.
I played some good stuff, although spending three hours and 17 minutes on court was more than I would have liked.
In the fourth set I made things a bit harder than I needed to and I also had a chance to close out the first set.
But I got through it - that's good news.
And the other positive thing is I felt better than I expected to at the end of the match.
When I'm going into the match I'm trying to prepare myself mentally that I'm not going to feel great physically after the match, or that my hip will feel painful, so I think about how I'm going to handle that.
Hopefully not feeling too bad at the end of the match continues and that my body adapts to the load I'm putting it through.
This is the first time I have played four sets in 14 months, so I just have to wait and see how I pull up.
'Sushi, bacon and porridge'
After a match, and around my media interviews, I refuel by eating three boxes of sushi. I had two of them before I spoke to the press and then I save one for afterwards.
This time I chose spicy tuna sushi from the players' restaurant at Flushing Meadows - it's pretty good.
Sushi is something I eat regularly and I actually had sushi at 8:30am on Monday - that was odd.
That's because I eat whatever is recommended to me. I have a nutrionist at home who will tell me to eat chicken, or rice, or pasta.
The morning before my match against James I also ate a bowl of porridge, and then I ate eggs, bacon, some gluten free toast.
When the weather is like it was in New York on Monday - hot and humid - I try to drink two litres of fluid an hour.
Then I have these energy gels which I eat every 20 minutes.
My team make up a sports drink before the match and as it goes longer I have saltier drinks to help with cramp or to prevent it.
The team study the humidity and the temperature and it all helps inform what and how much I drink.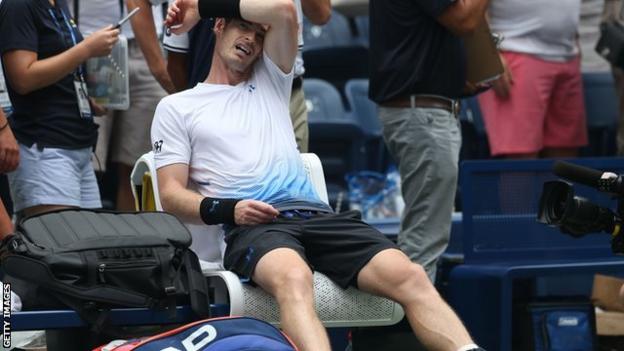 'Flushing Meadows can be noisy but I don't mind it'
I really liked playing on the new Louis Armstrong Stadium - I think it's a bit easier to play on than the old one.
It's a little bit more sheltered from the wind, although you can get a breeze in there. Before it used to swirl a lot in the old Armstrong. Now it blows but tends to go in one direction.
Also, it's shaded from quite early on in the day, which is nice for the players and also, I think, for the people watching.
There is still a constant hum of noise from the spectators when you're on court here and it takes a while to get used to it.
At Wimbledon and a lot of the other tournaments the etiquette is you're quiet during play but here it is not really the case.
It takes a bit of getting used to but five or six games into it becomes normal and you get over it.
I don't mind noise during points - it doesn't just happen here, it happens at most of the tournaments.
People arriving late to their seats happens quite a lot here too and that can be a problem if they're behind the court.
When you're having to track a moving object and people behind the court are wearing different colours or moving around it makes it very difficult to pick up the ball.
I wouldn't say it is more of a problem at Flushing Meadows than anywhere else, maybe it was just because it was the first day of the tournament and the ushers were letting people in when it's not an end change.
'I'm still taking it one match at a time'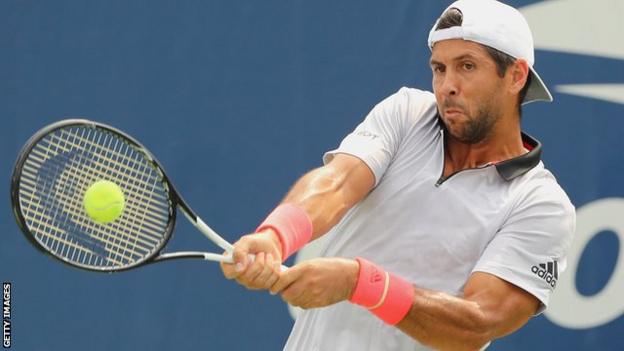 Fernando Verdasco is my opponent in the second round - he will certainly test my movement, that's for sure.
He has got a huge forehand and can do whatever he wants with that shot. He can hit angles, he can flatten out, higher balls.
He is never an easy guy to play against if he's on his game.
It's my job in that match to stop him dictating and hopefully I can be a bit more offensive and keep him on the back foot.
Before the tournament I said I wasn't expecting to go far and I don't think anything changes after beating James.
I'm still taking it one match at a time, but it's great being back playing.
Andy Murray was speaking to BBC Sport's Jonathan Jurejko.