Brian Vahaly: Ex-tennis pro says it would be 'helpful' if a male player came out as gay
Last updated on .From the section Tennis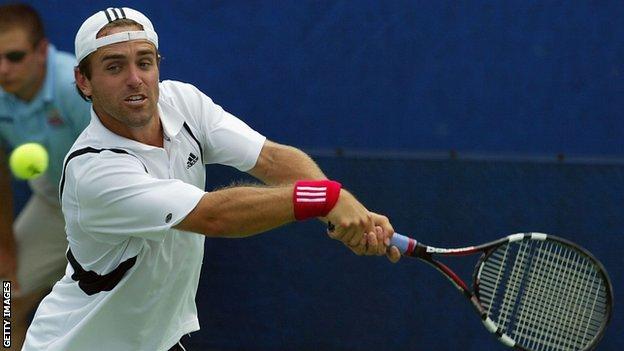 It would be "helpful" if a male tennis player came out as gay, says former professional Brian Vahaly, who did so 10 years after his retirement.
The 39-year-old American says he received thousands of "pretty nasty" messages after he came out in 2017.
Vahaly said he feared there would be financial implications had he made it known while still playing.
"I have seen and felt homophobic remarks throughout my entire career," he told the BBC's Sportsworld.
"Tennis is a very conservative sport.
"For the first few days after the announcement, I probably received two to three thousand pretty nasty emails and communications from people who were disgusted by me and my family.
"I didn't hear much from former players - most of the positive outreach came from the LGBT community or friends."
No openly gay man has played in a Grand Slam during the Open Era.
In contrast, Billie Jean King and Martina Navratilova - two of the greatest female players of all time - came out as gay during their careers.
And former world number 63 Vahaly believes their success forced others to be accepting of their sexuality.
"Martina and Billie Jean were at the top of their game," he says. "They could set a culture - other players had to be accepting because they were the best.
"When they came out it was difficult for them, so they deserve a lot of praise for their courage.
"On the men's side it would be helpful if someone at the top of the game would make an announcement like that."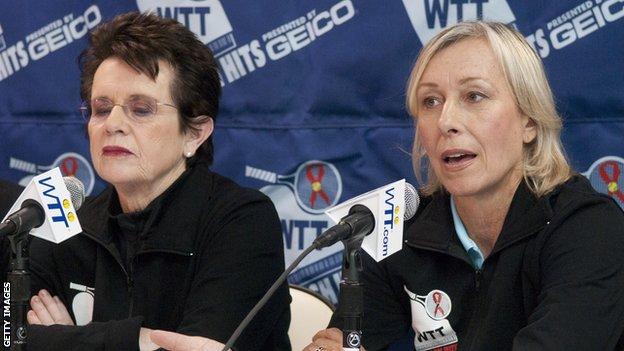 Vahaly, who is married with two surrogate children, says one of the reasons he did not come out while still playing was because he was not sure how sponsors would react.
"At the time people wouldn't have known what to do with it," he said. "To bring this level of distraction didn't feel advantageous.
"It would have been a very scary variable. I wasn't prepared to have regrets about potential financial and tennis implications."
In an interview last year, 24-time Grand Slam winner Margaret Court - now a Pentecostal Christian pastor - said tennis was "full of lesbians" and she would not fly with the airline Qantas "where possible" in protest at its support of same-sex marriage.
In response, King was among several former and current players to say she would consider boycotting the Australian Open, where a court is named after the 76-year-old.
Andy Murray, then the British number one, said: "I don't see why anyone has a problem with two people who love each other getting married.
"If it's two men, two women, that's great. I don't see why it should matter. Everyone should have the same rights."
Vahaly said: "That is the kind of voice, from the people who are most admired and most respected in the sport, that I think can really change people's minds.
"Hearing the voices of the most popular and the players at the top of their game serves wonders.
"I don't think it's a homophobic environment, but there are blocks of people who are uncomfortable with it. That conversation is not being had."