US Open 2018: Serena Williams fined over outbursts during final
Last updated on .From the section Tennis
2018 US Open
Venue:
Flushing Meadows, New York
Dates:
27 August-9 September
Coverage:
Live radio coverage on BBC Radio 5 live sports extra; live text commentaries on the BBC Sport website
Serena Williams was fined $17,000 (£13,100) for the code violations that included calling the umpire a "liar" and "thief" in her US Open final loss.
Williams, beaten by Naomi Osaka, was docked a game for verbal abuse and had a point penalty for racquet smashing and a code violation for coaching.
She later said it was "sexist" to have been penalised a game.
BBC tennis presenter Sue Barker said: "The umpire was following the rules by the book but Serena has a point."
Barker, a former world number three and 1976 French Open champion, added that "tennis was the loser" from Saturday's events.
Williams' fine for the code violations, imposed by the United States Tennis Association (USTA), will be deducted from the $1.85 million the American won as the runner-up.
"I've sat courtside watching the men ranting at umpires and they haven't been given a violation," Barker said.
"The fact that it was to be a game violation then robbed the crowd of what potentially could've been a third set."
Osaka, 20, won the match 6-2 6-4 to become the first Japanese Grand Slam champion.
Williams, who was aiming to equal Margaret Court's record of 24 Grand Slam singles titles, refused to shake hands with umpire Ramos after the match.
She later accused him of sexism, saying: "He's never taken a game from a man because they said 'thief'."
Barker told BBC Radio 5 live's Sportsweek programme: "Both have a point - Serena saying the male players can say what they want to umpires.
"Earlier in the tournament we saw Alize Cornet being given a code violation for changing her shirt on court and then in the same tournament Mohamed Lahyani gets down from his chair to talk to Nick Kyrgios and persuade him not to give up on a match.
"He [Ramos] was following the rules by the book but sometimes the book has to be rewritten.
"You can't have one rule for some players and some umpires don't adhere to it and allow players to get away with things. They've just got to be fair to the players.
"Tennis was the loser and we lost what was potentially a fantastic match.
"I've never seen anything like it since I have been watching tennis. It was sad for the game."
Marion Bartoli, the 2013 Wimbledon champion, echoed Barker's stance on the difference between how male and female players are treated.
"What the umpire did is totally not acceptable and I hope that we are going to have a sanction because we just can't let that happen," she said.
"When there is absolutely no curse or verbal abuse from Serena then giving her a game penalty is insane. You can't do that. It is impossible.
"She's right when she says the men say 10 times worse and don't even get a warning."
Ramos has given Novak Djokovic, Rafael Nadal and Andy Murray code violations in the past two years.
He also accused Serena's sister, Venus, of receiving coaching during a 2016 French Open match, although she wasn't penalised.
"I think she [Serena] went a little bit too far," said 18-time Grand Slam singles champion Chris Evert. "What she was saying, she had every right to say but she kept repeating herself.
"After a while it is like 'you have to stop'.
"Just because of the enormity of the moment, the umpire should have given her a bit of break but, instead, went right for the jugular."
What happened?
Williams was given a first code violation after Ramos judged a gesture from coach Patrick Mouratoglou to be coaching.
She said she had not received any tactics from Mouratoglou, telling the umpire she would "never cheat to win and would rather lose".
The Frenchman later admitted that he had been coaching from the box but that Williams had not seen him doing so.
Williams then received another code violation for a racquet smash at 3-2 in the second set, leading to Ramos docking her a point.
With Osaka leading 4-3, Williams told the umpire: "You are a liar. You will never be on a court of mine as long as you live. When are you going to give me my apology? Say you are sorry."
That led to Ramos docking her the next game to leave Osaka just one game away from victory at 5-3 up.
Williams refused to take to the court and demanded an intervention from the tournament referee.
Eventually she returned to the baseline, serving out a game to love before Osaka held serve to win her first Grand Slam win.
In her post-match news conference Williams said she was she "was not being coached" and that she "did not understand" why Mouratoglou would say he was doing so.
American 12-time Grand Slam singles champion Billie Jean King, one of the founders of the Women's Tennis Association, backed Williams, saying: "When a woman is emotional, she's 'hysterical' and she's penalised for it. When a man does the same, he's 'outspoken' and there are no repercussions.
"Thank you, Serena Williams, for calling out this double standard. More voices are needed to do the same."
'I feel so sorry for Naomi Osaka'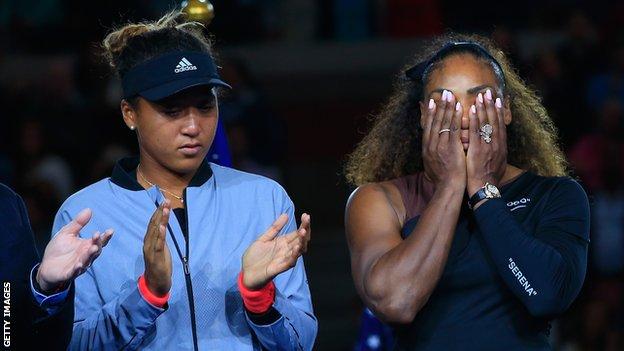 At the end of the match, security staff ran on to the perimeter of the court as Ramos walked off and the Portuguese did not return, as he would usually have done, for the trophy presentation.
Osaka, who describes Williams as her idol, pulled her visor down over her eyes to hide her tears when there was booing from the 24,000 crowd in the Arthur Ashe Stadium prior to the Japanese player being given the trophy.
The jeers were not aimed at her, with the fans instead expressing a sense of injustice at the way home favourite Williams had been treated.
The American appealed for calm in her runners-up speech, asking her supporters to "give credit" to Osaka's achievement, and the winner was then applauded.
USTA president Katrina Adams issued a statement calling Williams an "inspiration" and praising Williams for her "great deal of class and sportsmanship" on the podium.
"I'm immensely disappointed," said Barker. "I was so looking forward to what was going to be a fantastic finale to what has been an incredible tournament and it was all just taken away by Serena and the umpire. I feel so sorry for Naomi Osaka.
"Her first Grand Slam win has been marred in some way. She couldn't celebrate in the way she wanted to.
"She is one of the most exciting players on the tour. It was just so sad for me to see at the presentation that she was in tears. They weren't tears of joy.
"The crowd was booing and this was her moment. That's not the way you want to celebrate your first Grand Slam victory and it was just sad for the sport to see it."
What are the rules?
According to ITF Grand Slam rules:
Verbal abuse is defined as a statement about an official, opponent, sponsor, spectator or other person that implies dishonesty or is derogatory, insulting or otherwise.
Abuse of racquets or equipment is defined as intentionally, dangerously and violently destroying or damaging racquets.
Players shall not receive coaching during a match (including the warm-up). Communications of any kind, audible or visible, between a player and a coach may be construed as coaching.
Former umpire Richard Ings, who was also in charge of officials and rules on the men's tour, backed Ramos' actions.
"Carlos was composed, effective, knowledgeable of the rules and applied them absolutely correctly in each of those three situations," he told Radio 5 live.
"He saw violations, he had the courage of his convictions to call them when he saw it and I support him 110%. It's one of the best officiating jobs I've seen in years."
Should the rules be changed?
"It's weird in the women's game where they have coaching," said Barker.
"For all the tournaments, bar the Grand Slams, coaches can come onto the court at the change of ends to speak to their players.
"I was against that. It's a gladiatorial sport, it's one against one - you work out how to do it.
"But, if it's coming to things like this, it is ruining the game and it was just such a disappointing way for the tournament to end.
"If they can't adhere to the rules then they will have to allow the coaching because we can't have things like this outburst anymore. It is not good for the game."
She added: "There can't be a grey area any more. Maybe there has to be a supervisor that comes on and has the final say before you give a game away."