Wimbledon: Final set tie-breaks to be introduced in 2019
Last updated on .From the section Tennis427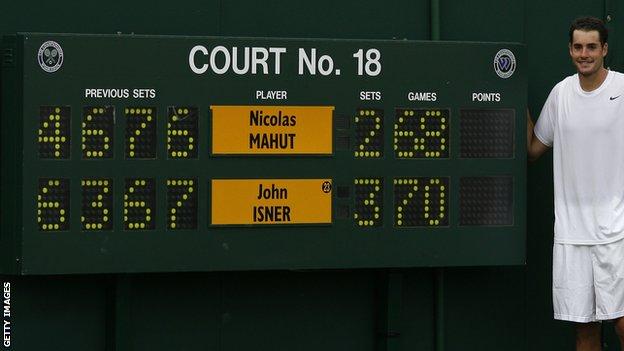 Tie-breaks will be played at 12-12 in the final set at Wimbledon from next year, the All England Lawn Tennis Club has announced.
Afterwards South African Anderson, who eventually won the set 26-24, called for a rethink of the format.
The AELTC said "the time had come" to introduce a tie-break method at "a reasonable point" in a deciding set.
The winner will be the first player or team to reach seven points with an advantage of two or more points.
This year's match between Anderson, 32, and Isner, 33, was the second longest in Wimbledon history.
Isner was also involved in the longest match when the American beat France's Nicolas Mahut 70-68 in the final set of their first-round match in 2010.
"While we know the instances of matches extending deep into the final set are rare, we feel that a tie-break at 12-12 strikes an equitable balance between allowing players ample opportunity to complete the match to advantage, while also providing certainty that the match will reach a conclusion in an acceptable time frame," said AELTC chairman Philip Brook.
It will apply to all Wimbledon events - qualifying, men's, women's, mixed and junior singles and doubles.
Are players in favour?
The AELTC said the decision had been made after reviewing match data from the past 20 Championships and a consultation with players and officials.
The majority of players are happy with the introduction of a final set tie-break, according to AELTC chief executive Richard Lewis.
"There were mixed views but predominantly players favoured the final set tie-break," he told BBC Radio 5 live.
"They recognise that the quality of tennis goes down and players start playing not to lose in a long final set rather than the determination to win, and they recognise it affects the quality of matches in subsequent rounds.
"I think players will play better because they know it will finish at 12-12 in a tie-break and they don't have to save energy.
"And a final set tie-break will be incredibly exciting in its own right."
Lewis added the AELTC did consider not applying the rule in finals matches but ultimately decided "there should be consistency right through the whole event".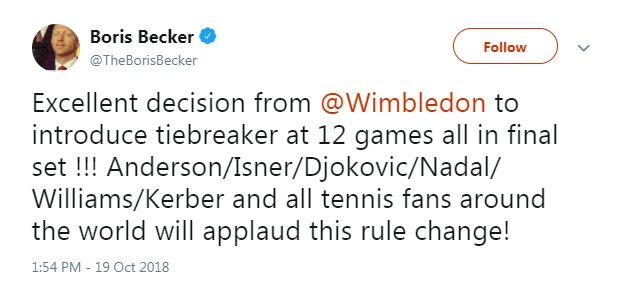 Which marathon final sets would never have happened under the new rules?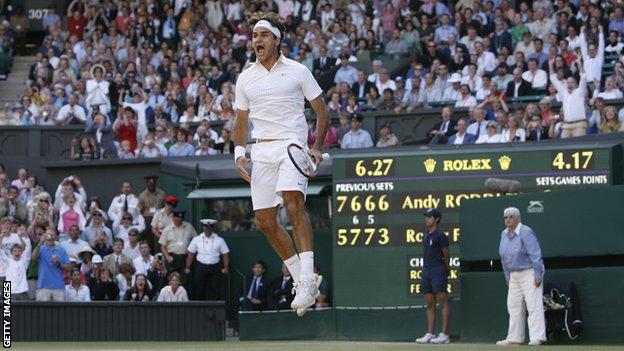 Fifteen singles matches - 14 men's and one women's - have gone past 12-12 in the final set at Wimbledon over the past 20 years.
Here are five of the most memorable:
2009 final:

Roger Federer v Andy Roddick - Federer won 5-7 7-6 (8-6) 7-6 (7-5) 3-6 16-14

2010 first round:

Nicolas Mahut v John Isner - Isner won 6-4 3-6 6-7 (7-9) 7-6 (7-3) 70-68

2012 third round:

Marin Cilic v Sam Querrey - Cilic won 7-6 (8-6) 6-4 6-7(2-7) 6-7(3-7) 17-15

2017 fourth round:

Rafael Nadal v Gilles Muller - Muller won 6-3 6-4 3-6 4-6 15-13

2018 semi-final:

Kevin Anderson v John Isner - Anderson won 7-6 (8-6) 6-7 (5-7) 6-7 (9-11) 6-4 26-24