Wimbledon: John Isner backs new rule to stop marathon matches
Last updated on .From the section Tennis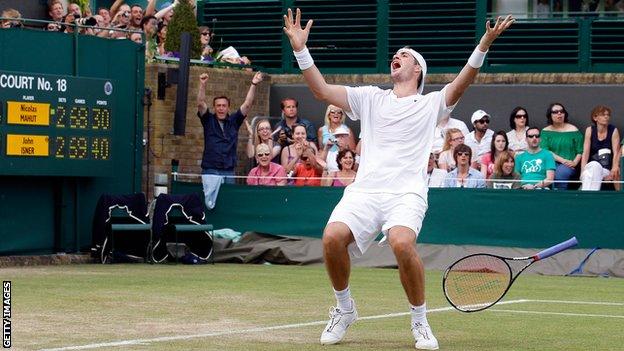 John Isner has backed planned changes to Wimbledon aimed at preventing marathon matches - and says the rule should be named after him.
From next year, tie-breaks will be played at 12-12 in the final set, the All England Lawn Tennis Club (AELTC) has announced.
Isner was involved in the longest match in Wimbledon history in 2010, beating Nicolas Mahut 70-68 in the final set.
"I have said all along 12-all is good," he told BBC Radio 5 live's Sportsweek.
"That is sensible - you're getting people who like the advantage and people who like tie-breaks. It is bucking tradition but a lot of people believe that is not a bad thing," said the American.
Isner's semi-final with Kevin Anderson this summer was the second longest match in Wimbledon history, with the final set lasting almost three hours.
"The next match that gets to that, they should just say we will now play the Isner Rule," he said. "I don't think they are going to do that, but I think I've been a big driving force for it."
A tie-break is played in the fifth set at the US Open at 6-6, but at the Australian Open and French Open the final set must be won by two clear games.
Isner, 33, thinks the other Grand Slam events could follow Wimbledon's lead.
"It may be that Wimbledon acting like this could drive them to do it as well," the world number 10 said.
"There is drama enough in a tie-breaker. You could argue there is more drama in that," he added.
The AELTC said "the time had come" to introduce a tie-break method at "a reasonable point" in a deciding set.
The winner will be the first player or team to reach seven points with an advantage of two or more points, with the ruling applying to all Wimbledon events - qualifying, men's, women's, mixed and junior singles and doubles.
Some of the most memorable Wimbledon matches to go beyond 12-12 in the final set:
2009 final: Roger Federer v Andy Roddick

- Federer won 5-7 7-6 (8-6) 7-6 (7-5) 3-6 16-14
2010 first round: Nicolas Mahut v John Isner

- Isner won 6-4 3-6 6-7 (7-9) 7-6 (7-3) 70-68
2012 third round: Marin Cilic v Sam Querrey

- Cilic won 7-6 (8-6) 6-4 6-7(2-7) 6-7(3-7) 17-15
2017 fourth round: Rafael Nadal v Gilles Muller

- Muller won 6-3 6-4 3-6 4-6 15-13
2018 semi-final: Kevin Anderson v John Isner

- Anderson won 7-6 (8-6) 6-7 (5-7) 6-7 (9-11) 6-4 26-24