Katie Boulter on cracking the top 100 & facing Serena Williams
By Amy Lofthouse
BBC Sport
Last updated on .From the section Tennis
One of the first phone calls Katie Boulter made after breaking into the world's top 100 was to her grandparents.
The British tennis player's grandfather Brian is, in her words, "a smart guy" - a mechanical engineer who invented clothing anti-theft tags.
"He actually put airfield lighting down in Gatwick and Heathrow and different places," Boulter told BBC Sport.
"He's someone who has pushed me in my lifetime. I love to spend time with him, just talking about completely-irrelevant-to-tennis conversations."
While the 22-year-old would have liked to have spent Christmas Day with him, she was instead on a plane to Australia gearing up to play two of the biggest names in tennis for the first time - Serena Williams and Roger Federer.
Boulter admits she is a "little anxious" about facing two players who have 43 Grand Slam singles titles between them when she teams up with Cameron Norrie to represent Great Britain at the Hopman Cup in Australia.
Before setting off for Perth, Boulter shared her thoughts on facing her childhood idol, the trip to Wimbledon that motivated her during an illness that kept her out for a year, sibling rivalry and fashion.
'It's going to be a huge year'
Boulter and Norrie will play former world number one Federer and his Swiss team-mate Belinda Bencic on 30 December, before facing Americans Williams and Frances Tiafoe four days later in the Hopman Cup mixed team event.
"It is something I've dreamed of," said Boulter, who is the world number 97 after a year in which she climbed more than 100 places in the rankings.
"It's going to be a huge year for me and I'm looking forward to playing a lot more people like that.
"I'm going to go out and play my game against Serena. I do the same thing no matter who is on the other side of the court.
"There may be a small element that, OK, it is actually Serena when I get on the court, but I'm going to enjoy it and just have fun."
Facing her childhood idol follows a year of other tennis firsts for Boulter - a first WTA quarter-final, first ITF singles title, first time in the top 100 and first victory at Wimbledon.
Like many young players, Boulter grew up watching Williams after the rivalry between her and Russia's Maria Sharapova caught her attention.
"I watched them when I was little on TV - the first time Sharapova won Wimbledon [in 2004] and beat Serena was big news," she said.
"Serena is such an amazing woman. The way she carries herself is something I would like to emulate. She's someone I've looked up to for a long time."
Boulter does have some big-name experience to draw on against the 23-time Grand Slam singles champion - she beat former US Open champion Sam Stosur to reach the Nottingham quarter-finals in June and she took a set off world number seven Karolina Pliskova in a tight quarter-final in Tianjin in October.
A year out with illness
This year, a small crowd gathered on court 14 at Wimbledon to watch Boulter claim her first Grand Slam match win. Three years ago, Boulter would have been among them.
A fatigue illness forced her to take a year out of the sport. As a result, her ranking tumbled. A trip to Wimbledon to watch her friends was the tipping point for Boulter.
"I wanted to support them but, at the same time, I wanted to be there. I wanted to be that person," she said.
"I posted about it when I got home and said to myself, 'Next year, I'll be back here playing.' And I was.
"It drove me a little bit more and gave me motivation. I can look back at it now and it got me to where I am now."
The post is still on Boulter's Instagram. Next to a quote urging athletes not to take their sport for granted, Boulter wrote about "the toughest year of my life".
"Being away has made me become a little bit of a nightmare," she wrote. "I have learnt just as much off the court as I have being on it, helping me become a stronger person."
Sibling rivalry was 'big motivation'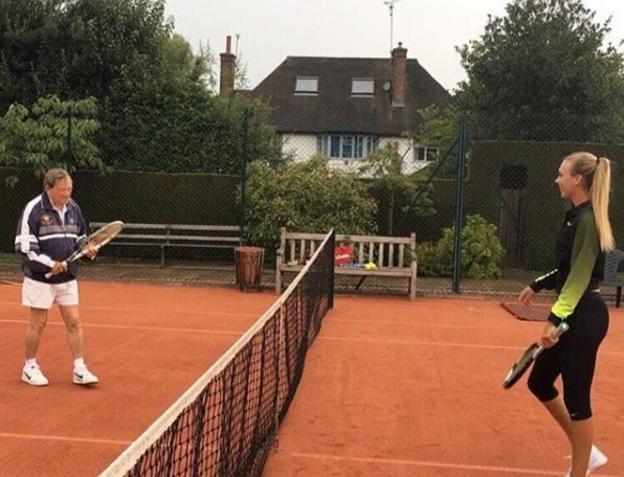 There are plenty of tennis photographs on Boulter's profile, including one of her having a hit with her then 80-year-old grandad.
Her mum played tennis at county level and represented Great Britain a few times, but it was sibling rivalry that motivated Boulter in the early days.
"When we were younger, beating my big brother was a big motivation for me! I don't think he realised it at the time," Boulter said,
"We used to practise together at this local court down the road from our house. It was the only thing I could eventually beat him in, so that felt great.
"It's my absolute claim to fame, beating my brother when I was 14. I'll keep that for life! He hasn't really picked up a racquet much since then..."
Away from tennis, Boulter has an interest in fashion - she has appeared in Vogue magazine this year - and used to play the piano, until tennis got in the way.
"I'm interested in what different things people can come up with, within the fashion world, which is relatable to them, but might not be to someone else," she said.
"It's quite a cool way to express yourself. I don't really focus on imagery but it is a big part of the job. It's pretty cool to switch your outfit all the time and have everything in place."
But, for now, the focus is on the Australian Open, which will be Boulter's first Grand Slam without needing a wildcard, and then the top 50.