Nicolas Jarry: Chilean suspended after testing positive at Davis Cup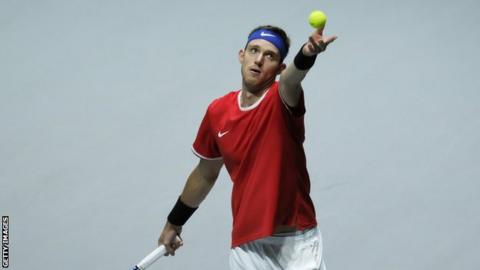 Chile's Nicolas Jarry has been provisionally suspended after testing positive for two banned substances during last year's Davis Cup.
The International Tennis Federation (ITF) said the 24-year-old's sample contained anabolic agent ligandrol and anabolic steroid stanozolol.
World number 78 Jarry said he had not "intentionally" taken any banned substance during his career.
"It strongly looks like a cross-contamination case," he said.
Jarry said he had taken "multi-vitamins made in Brazil" that his doctor recommended because they were "guaranteed to be free from banned substances".
He added that he had undergone two urine tests during the Davis Cup in Madrid in November and that the first one was clean before the second detected "levels so low that neither substance could have provided me any performance-enhancing benefit".
Jarry, who was beaten in Australian Open qualifying on Sunday, said he and his legal team will be "working strongly" to prove his innocence and will fully cooperate with the ITF.
Meanwhile, Colombia's men's doubles world number one Robert Farah has said he tested positive for a banned substance, hours after pulling out of the Australian Open citing personal reasons.
The Wimbledon and US Open champion said the ITF told him that he had tested positive for the anabolic steroid boldenone in October, which he said was the result of eating Colombian meat.
He says an anti-doping test two weeks prior in Shanghai came back negative, as did another 15 tests throughout the year.
"I am calm and confident in the results of this process since I have always acted correctly and honestly in my life," he said in a statement. "I will work harder than ever to return to the courts in the shortest time possible."