Caroline Wozniacki career ends with loss to Ons Jabeur at Australian Open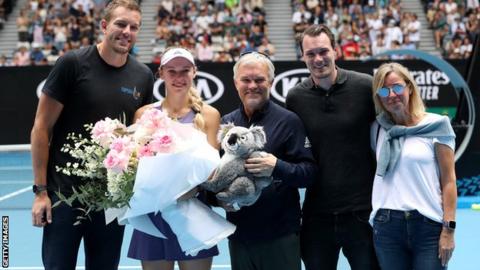 2020 Australian Open
Venue: Melbourne Park Dates: 20 January to 2 February
Coverage: Listen on BBC Radio 5 Live Sports Extra and online; Live text on selected matches on the BBC Sport website and app.
Former world number one Caroline Wozniacki says she is "very proud" of making her childhood dreams come true after an impressive career came to a close at the Australian Open.
Wozniacki, 29, revealed her intention to retire in December, fittingly calling time at the venue where she won her only Grand Slam title.
Now ranked 36th, the Dane's 15-year career ended with a 7-5 3-6 7-5 defeat by Tunisia's Ons Jabeur.
"It has been a great ride," she said.
Wozniacki bows out having spent 71 weeks as the world number one, lifted 30 WTA titles and accumulated almost £27m of prize money.
Most significantly, she will always have that coveted Grand Slam title next to her name in the history books.
That came at the third time of asking, following two US Open final defeats, when she beat Simona Halep in the 2018 final at Melbourne Park.
No other Dane has won a Grand Slam singles title.
"I think the main thing I've learned is no matter where you're from, no matter what colour of your skin, no matter if you're tall or short, big or small, it doesn't matter," she said.
"If you have a dream and you go for it and work hard, anything is possible.
"I had a dream when I was a kid. I wanted to win a Grand Slam. I wanted to be number one in the world.
"People thought that I was crazy being from a small country. But I made it happen. I worked so hard for it every single day."
Wozniacki was diagnosed with rheumatoid arthritis in 2018, although she has said that was not the sole reason behind her decision to retire.
She will "work on" the autoimmune disease which causes pain and inflammation in joints post-playing, but has also made it clear she wants to "achieve other things in life".
Wozniacki has also enrolled at Harvard Business School and says she has a "slam-packed" diary over the next six months.
Her plans include going skiing with her family, a couple of "girls trips" and a belated honeymoon with her husband David, the former NBA basketball star who she married in June last year.
"There's so much that tennis has given me. I've learnt so much and I'm so thankful. But I think life outside of tennis will be equally as exciting," Wozniacki said.
Tears and teddy bears - Melbourne waves goodbye to 'Sweet' Caroline
Wozniacki has long been one of the most respected players in the sport, meaning it was always going to be an emotional farewell whenever she lost at Melbourne Park.
While it was far from a fervent atmosphere during the match - not least because unsurprisingly there were few Danes who had made the 9,900 mile trip at an eye-watering cost - the respectful mood switched to a sentimental celebration after Wozniacki lumped a forehand long on match point.
After embracing with Jabeur at the net, she wandered over to her chair and sat down for a few moments as she contemplated the fact it was all over.
"There are a lot of emotions, a lot of things I can't compartmentalise," a still teary Wozniacki told reporters afterwards.
"A lot of excitement. A little sadness. Flashbacks to since I was a kid to this moment."
Jabeur beautifully paid tribute to the woman whose career she had just ended, saying she was "sad and actually a bit stressed" that she was the one who laid the final blow. Somebody had to.
For Wozniacki fans, the dream farewell might have been in the next round against her great friend, and bridesmaid, Serena Williams.
A shock defeat for the 23-time Grand Slam champion, who also welled up when she was asked about Wozniacki's retirement, meant neither will be returning to Melbourne Park this week.
Wozniacki will not return again, as a player at least, leading to an emotional on-court presentation following Jabeur's brief victory speech.
Australian Open tournament director Craig Tiley appeared with a giant cuddly toy before a tribute from her fellow players, starting with a montage of them saying the word most associated with her career - 'fight', appeared on the big screen.
"Hopefully I will not cry - I brought the tissues just in case," laughed Wozniacki.
Inevitably, the tears did start rolling. Wozniacki's nearest and dearest walked on to share the special moment, dad Piotr - the most influential person in her career having nurtured her talent from precocious age - lifting his screaming daughter into the air before a making a celebratory punch at everything he has seen her achieve.
"I'm not a big crier, but I think when the family came down, I saw my dad pacing himself, that's what he does when he tries not to get emotional," Wozniacki said.
"Then my mum was bawling, she had sunglasses on. My brother was shaking. Looking at David just smiling, crying, being excited.
"That all caught me, I got emotional. I just tried to take it all in."
There was one final tribute. Being serenaded by the entire 10,500 crowd to Neil Diamond's heartstring-tugging pop classic 'Sweet Caroline'.
"It's going to be a moment I will never forget."
The occasion was reminiscent of Andy Murray's 'farewell' on the same court 12 months ago - and you know what happened there.
Yet Wozniacki's circumstances are very different to the Briton's and she truly believes this will be a final goodbye.
'She is one of Denmark's all-time sporting greats'
Before leaving court for the final time, Wozniacki ran over to the far baseline to collect a Danish flag - probably the only one in the arena - which had been draped over a safety barrier.
Wozniacki flung it above her shoulders, wafting the flag high in the air in a symbolic gesture marking her place as the small Scandinavian country's only Grand Slam champion.
Watching the moment was former Denmark footballer Thomas Sorensen, who knows Wozniacki and was able to get tickets for him and his family through the player.
"She is a huge sporting personality in Denmark - one of the biggest we have ever had," former goalkeeper Sorensen, who played in the English Premier League before ending his career at Melbourne City, told BBC Sport.
"I've lived here for four years and I've been very fortunate to watch her here - especially in the year she won.
"It is sad but on the other hand it is a celebration. She can be so proud of her career.
"She has been on the top of the game for so many years. Who knows if Denmark as a small country will ever get anyone close to her."
Danish fans watching this special moment in the flesh were few and far between - at least judging by the lack of national colours visible at Melbourne Park.
But wearing her Denmark football shirt paid dividends for 10-year-old Sigred Oestergaard, who was given the final racquet of Wozniacki's career by her husband David.
Originally from the Danish city of Aarhus, she was there with her family after they recently moved to Melbourne.
"It's really, really good," a shy Sigred said of getting the prized momento. "I'm going to put it on the wall."
'You were an inspiration for any little girl' - players pay tribute
Twelve-time Grand Slam winner Billie Jean King: "Congratulations on an incredible career. Looking forward to watching all that you will accomplish in the next stage of your life's journey."
Two-time Wimbledon champion Petra Kvitova: "Caro, I was looking for a pic on the tennis court but I realised we had more fun off it. Thank you for always bringing a smile and a laugh to life. I will miss you, but I know that you have great things ahead. Congratulations on an amazing career."
American teenager Coco Gauff: "Congrats on an incredible career. You were an inspiration for any little girl picking up a racket."
WTA Finals winner Elina Svitolina: "What an amazing career, every little girl would dream about!!! Congratulations to every person on this picture for incredible effort and dedication!!! P.S. I will not miss our endless rallies."
Tunisia's Ons Jabeur: "Congrats on an amazing career. It was an honour to share the court with you today.
"Your fighting spirit has always inspired me and I wish you all the best in this next chapter of your life. You'll be missed but I'm sure we will see you around."
WTA Insider: "Lots of emotions all around Melbourne Park at the moment. Ash Barty sought out Caroline Wozniacki and her family, giving a hug to each and congratulating them all on a wonderful career.
"Wozniacki sought out Serena in the locker room after loss to comfort her friend."
Tennis Australia chief executive Craig Tiley: "Farewell Caroline always a joy to have you at the Australian Open. All the best with your next moves, we hope to see you again, champion."