Great Britain could use pacemakers in 2012 triathlon
Last updated on .From the section Triathlon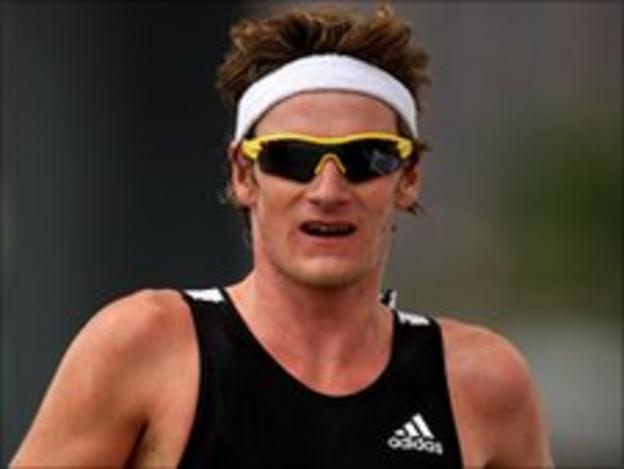 GB could use cycling pacemakers in a bid to win their first Olympic triathlon medals at London 2012.
Rather than allowing all entrants to battle for medals, a cycling "domestique" would aid the top medal contender.
"It's a really important aspiration to win at least one medal," said British Triathlon chief Zara Hyde Peters.
"We will do that however we best can, using potentially the entire resources of the team at our disposal."
Other countries have employed the policy since triathlon made its Olympic debut at the Sydney Games in 2000.
Unlike open-participation triathlon, the Olympic discipline allows cyclists to ride in packs, as conventional road racers traditionally do in events such as the Tour de France, where team riders are known as "domestiques".
That allows the opportunity for a cycling specialist to work for the team and push team-mates harder during this phase, between the swim and the run.
However, Britain's former Under-23 world champion Will Clarke says he is concerned about the potential use of pacemakers.
"I'm not sure there's actually anyone strong enough who could do the domestique job," said Clarke.
"I think that we have so many good athletes that they'd just be missing out on another chance of a medal."
GB are hoping to gain positions for six athletes at the Olympics, equally split between men and women.
With 2009 world champion Alistair Brownlee and his brother Jonathan unlikely to be toppled from their positions as GB's top two men, Clarke's ambition of reaching the London Games could be made more difficult if a cycling specialist were picked.
However, the domestique would need to be competitive in his or her own right, and achieve a ranking within the world's top 150 in order to compete.
"The policy for selection does allow athletes to be included who work for the team rather than just as individuals, but only if the slots are not filled by genuine medal contenders in their own right," said Hyde Peters.
In order to be considered a "genuine medal contender" British triathletes must win a medal at either the Olympic test event in Hyde Park in August, the World Series Grand Final in Beijing in September or another event designated by the GB selectors.
"Great Britain is the hardest Olympic team to qualify for," said Clarke.
"The standard is extremely high and everyone's had to raise there game significantly because we're all chasing the Brownlee brothers who are the best in the world."
Helen Jenkins won the World Championship in 2008, when it was a one-off event, before the current series format was introduced.
That result aside, though, to date British women have not enjoyed the same level of success as their male counterparts and the use of a domestique could be a more realistic option for them.
British Triathlon insists, though, that there is still plenty of time before decisions need to be made.
"The women's event is still evolving," said Hyde Peters.
"We haven't had as many podium finishes as the men but there is strength in depth at the moment and compared to this time before the 2008 Olympics we are significantly stronger, so I think it's very much an open race at this point.
"London 2012 is incredibly important to us, because to many athletes it will be a once in a lifetime opportunity and as triathlon is a relatively young sport we would love our first Olympic success to be on home soil."
British Triathlon's CEO also confirmed support for the decision by the International Triathlon Union (ITU) to re-schedule the Yokohama World Series event in Japan.
The event was due to take place on May 14-15, but was postponed due to the countries nuclear alert which followed a magnitude 9 earthquake in March.
The ITU have since confirmed that the race will now take place a week after the 2011 Grand Final, on September 19.
Points will count towards the 2012 World Series, meaning the winner of the men's and women's World Champions this year will still be announced at the season ending race in Beijing.
The next round of the tour takes place this weekend in Madrid, Spain, with live coverage on the BBC Red Button and the BBC Sport website (for UK users).