Alistair Brownlee leads brother Jonny to European one-two
By Ollie Williams
BBC Sport
Last updated on .From the section Triathlon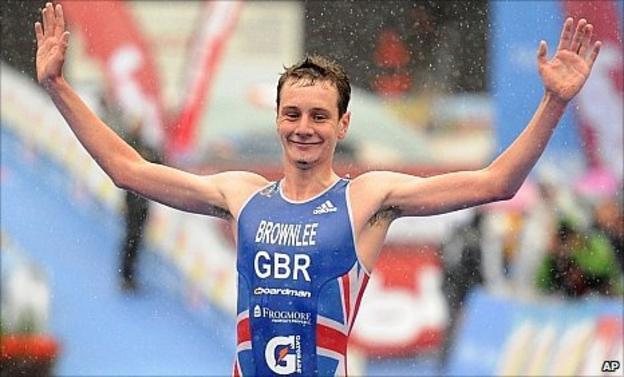 Yorkshire's Alistair Brownlee beat brother Jonny to the European triathlon title despite suffering a flat tyre in Spain on Saturday.
Alistair, 23, caught the pack after his tyre problem then pulled clear of Jonny, 21, on the run to win.
"It's one of my proudest races. If you win when things aren't going to plan, you can be really proud of yourself," said Brownlee senior.
France's Emmie Charayron won the women's title.
Jodie Stimpson was the best-placed British woman in 10th.
The races took place in Pontevedra on the Spanish west coast, the home town of defending men's world champion Javier Gomez.
Gomez, 28, is widely perceived as the main threat to British hopes of men's triathlon gold at next year's London Olympics - he and the Brownlee brothers are considered the best in the world.
But Gomez never really figured in the race and faded badly on the run to finish 40th, leaving the two Brownlees to battle for gold after a staggering comeback from Alistair on the bike.
Jonny and other GB triathletes employed the triathlon equivalent of Formula 1's team orders to slow down the pack and allow 2009 world champion Alistair to recover.
"I didn't panic," Alistair told BBC Sport. "I knew I had a puncture but my team-mates worked really hard and Jonny slowed it down at the front. It was a great team performance today.
"On the run, I thought I'd feel a bit ropey but I eased myself into it and pushed on to get away from Jonny."
Jonny Brownlee added: "The puncture threw a spanner in the works - it's the first time it's happened for us - so I tried to slow the group down.
"I gave everything I could [in the run] but Alistair attacked, got five metres on me pretty quickly, and I had nothing left.
"He was incredible. He got a puncture, caught back up and still beat me. He does incredible stuff like that."
The pair were more than a minute ahead of Russia's Dmitry Polyansky in third. Britain's other finishers were Todd Leckie (22nd) and David McNamee (45th).
Europe's elite female triathletes had earlier taken to the picturesque riverside course just after midday as stifling temperatures reached 35C (95F).
Charayron beat a depleted field to lift the women's European title, while Stimpson, 22, professed herself disappointed with her 10th-place finish.
"I was looking for a podium. I'm in the shape to do it. It was hot but I didn't feel it until the second half of the bike," said Stimpson.
Hollie Avil finished 12th for Britain with team-mates Non Stanford 17th and Lois Rosindale 25th.
The world's best triathletes will head to London on 6-7 August for the Hyde Park leg of the sport's World Championship Series.
Alistair Brownlee leads the series rankings ahead of Russia's Alexander Brukhankov and Gomez, with Jonny Brownlee fourth. The series concludes in Beijing in September.
Britain's six athletes for the Olympic Games, three men and three women, will be selected based on performances in Hyde Park and Beijing.