GB triathlete Harry Wiltshire gets six-month ban
Last updated on .From the section Triathlon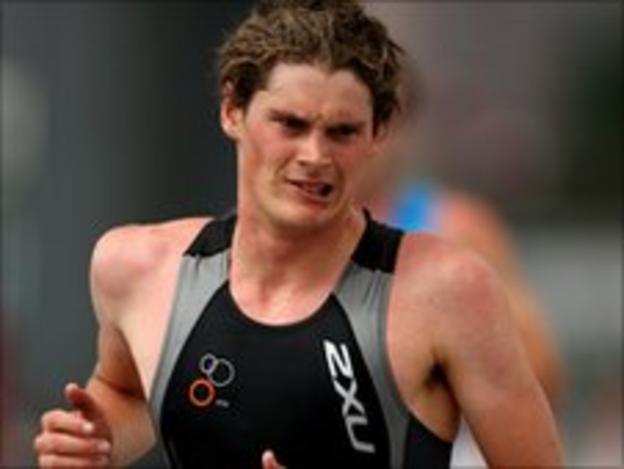 Britain's Harry Wiltshire has been suspended for six months by the International Triathlon Union (ITU) for unsportsmanlike conduct.
Wiltshire was disqualified from last month's European Championships in Spain last month for impeding world champion Javier Gomez during the swimming event.
The race was won by Britain's Alistair Brownlee with home favourite Gomez eventually finishing 40th.
The ITU suspension has been backdated to 26 June.
It prohibits Wiltshire, who is currently ranked 68th in the world, from taking part in ITU competitions or competitions sanctioned by national federations affiliated to the ITU.
Gomez tweeted after the race: "Disappointed with what Harry Wiltshire did in the swim, hope ITU penalises him hard. Everyone saw it, it's pretty sad, poor boy."
According to BBC Sport's Ollie Williams, who filmed with Brownlee, his brother Jonathan and Gomez at the GB team hotel the day after the race, Wiltshire attempted to clear the air with Gomez but the Spaniard was having none of it, did not want to talk and clearly remained furious.
Williams added: "There is no evidence that Wiltshire was instructed by British coaches to target Gomez in the swim.
"But, in a race where GB worked as a team to get Alistair Brownlee back to the front after a puncture, it may be unsurprising that the ITU took a dim view of the lesser-known Wiltshire's open-water fracas with a strong rival to the Brownlees."
British Triathlon has yet to announce whether Wiltshire will appeal against his suspension.
However, world governing body the International Triathlon Union (ITU) told BBC Sport that no internal appeals procedure exists, and that British Triathlon would have to take any grievance to the Court of Arbitration for Sport.
The ITU also confirmed that their sanction is directed specifically against Wiltshire and not the British team.