London 2012: Chrissie Wellington senses GB triathlon golds
Last updated on .From the section Triathlon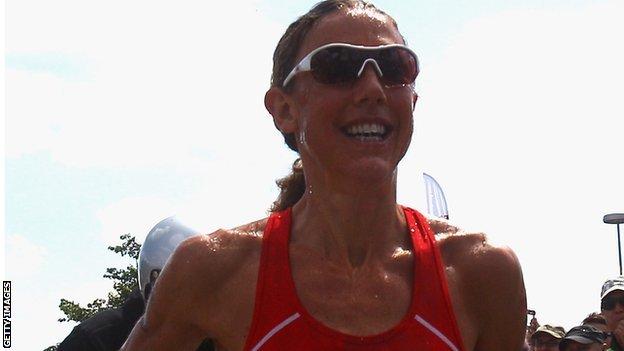 Four-time ironman world champion Chrissie Wellington believes Britain's "world leading" triathletes are the nation's top medal hope at London 2012.
GB currently has 11 world champions and one team title across the scope of triathlon age groups and distances.
"We are leading the way across the board and it promises to be incredibly exciting," 34-year-old Wellington told BBC Radio Norfolk.
"We've got very strong hopes for gold in both men's and women's next year."
Wellington, from Feltwell in Norfolk, will not compete at the Olympics, as she concentrates on the long-distance ironman discipline.
But Alistair Brownlee and Helen Jenkins, world champions in the Olympic distance, and sprint champion Jonathan Brownlee are expected to be involved next summer.
"Great Britain is a global force in triathlon at the moment. We lead the world. We have world champions in Olympic distance triathlon in both men and women," Wellington added.
"We have a world champion in off road triathlon [Lesley Paterson] and me as a four-time world champion in ironman, so we are leading the way."
Meanwhile, Wellington says she is still nursing the wounds of a training bike crash which almost derailed her .
"It has taken a while to recover. When you put your body through something as difficult and taxing as an ironman it is going to take its toll," she explained.
"It did take a while for my body to heal and I'm on the road to a full recovery."