London 2012: Olympics stir painful memories for triathlete Simon Lessing
By Justin Goulding
BBC Sport
Last updated on .From the section Triathlon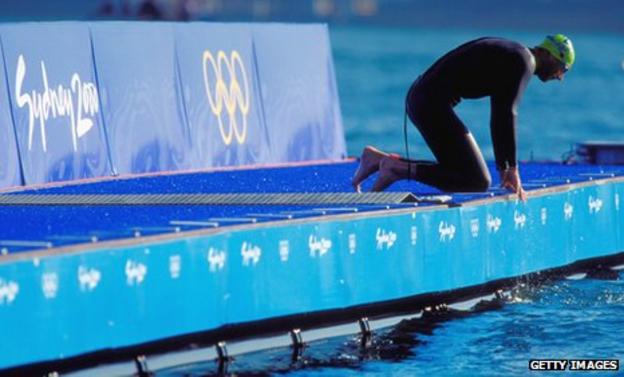 Amid the countless mentions of dreams coming true and lifetime goals being realised at the Olympics, Simon Lessing's comments stand out like a man wearing a wetsuit in central London.
"The Olympics weren't a great experience for me," he tells BBC Sport. "I didn't enjoy it and I just wanted to get out of there."
Lessing is referring to Sydney 2000 when, as the world's number one triathlete, he was widely expected to win gold for Great Britain.
He finished ninth, years of dominance in the sport were forgotten in an instant and he returned home to be met by his postman demanding £10 back for a failed bet.
Twelve years on and four years into retirement, Lessing can afford to laugh at how he even made the pages of GQ. "They listed the top 10 failures of the year and I was at number nine," he chuckles.
For those not familiar with the world of swim, bike and run, Lessing is an icon. Winner of four world and three European titles, plus an Ironman champion to boot, he was named the greatest triathlete of all time by 220 Triathlon magazine. And if you need further proof of his impact on the sport, consider how many triathletes have been made an MBE.
There are obvious parallels with Lessing 12 years ago and Alistair Brownlee now.
World champion twice in the last three years, Brownlee is unquestionably the best triathlete on the planet and is considered one of Britain's best chances of Olympic gold in London this summer.
Victory in the test event at Hyde Park last summer hardly helped dampen expectation.
"He is the favourite," agrees Lessing. "But that means he has a big target on his back. You're up against 40 other guys who are all after you. That was exactly what I was faced with."
Lessing, for whom the pressure at Sydney was heightened by a none-too-subtle comment from a British Olympic Association committee member about what colour medal they wanted, was in the best shape of his career on the start line, and insists that if he had his time again he would race exactly the same race.
How, then, does he explain finishing ninth? "Because the Olympics is such a once-in-a-lifetime opportunity for most of these guys, it brings out really unbelievable performances.
"All of a sudden athletes can and do take a risk. Everybody wants their five minutes or two minutes of fame. There are always surprises.
"As the favourite, I couldn't let them get away on the swim or on the bike, so I had to chase them down every time there was a break. By the time I got to the run, I was fried."
Lessing's recollections should serve as a salient reminder that "nothing is a given; I hope the public and media realise that", especially in a sport littered with potential pitfalls.
"The number of things that can go wrong, from being kicked in the face during the swim, to losing your goggles, to not being able to get your wetsuit off, to your chain slipping, to losing a shoe... You always need that element of luck."
The schedule denied Lessing the chance to attend the opening ceremony in Sydney, and it is striking - not to mention a tad disheartening - to hear him describe his whole Olympic experience as "a pretty lonely journey".
Whereas Lessing felt isolated, Brownlee can rely on the support of his younger brother, Jonny - even if both ultimately want the same prize.
Jonny finished second to Alistair in the world rankings last year and his improvement has been such that the odds on a British one-two along the banks of the Serpentine on 7 August have tumbled.
"The Brownlee brothers have themselves to back each other up," says Lessing. "They're strong; they can help each other out.
"At Sydney there was a lot of hype and there was so much extra pressure on me. I was racing for my country, my sponsors, my support team - and I found that hard.
"They seem level-headed guys and they're mature enough to cope with the pressure. My advice would be to treat the race the same way as any other. And enjoy it."
Lessing, who was born in South Africa but moved to Britain when he was 18, now runs a coaching business in Boulder, Colorado.
Even from across the Atlantic, he cannot fail to be impressed by what the Brownlees have achieved at such a young age. Come London, Alistair will be just 24 and Jonny a mere 22.
"To do it race after race and season after season, that's the true mark of a champion," says Lessing, 40. "Alistair has proven he can do that."
One suspects Lessing wished there were rather more people keen to say the same about him during the fall-out from Sydney.
"If it goes wrong you're judged on that one race. Everyone wants to be your friend leading up to the Games, and then afterwards they walk away. That's hard to deal with.
"It's a very fickle world; it's all or nothing. That was the lesson I learnt."
If the Brownlees needed any further motivation, surely Lessing has just provided it.