Lucy Hall latest in next generation of British triathletes
By Ollie Williams
BBC Olympic sports reporter
Last updated on .From the section Triathlon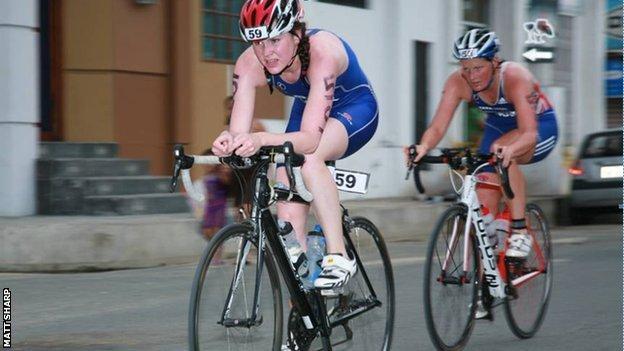 Lucy Hall does not think about the curious incident of the dog in the bike ride.
"I've blocked it out," she says, but the story can be coaxed out of her.
"It was last year, in Beijing. My first junior World Championships and, unfortunately, my last," she recalls. "I won't ever get a shot at that title again.
"I came out of the swim, got onto the bike and I got away. On the second lap I was on my tri bars, I looked up, and this dog ran out. Everything is a blur from then on, all mushed into one memory."
The dog - a stray wandering the roads of the Chinese capital - collided with Hall and sent her flying, bringing her bid for triathlon's junior world title to an unlikely and painful end.
"It was really, really horrible. I've never felt that bad. I was teary and emotional on the phone to my parents, and afterwards I could feel the whiplash - when I fell off the bike I must have really tensed up. The day after, I could hardly move my neck."
And the dog?
"I think it got away. Although, that night, we were eating and we had this 'mystery meat'. Everyone was joking I'd been served the dog."
Hall is 20 years old. The Beijing disaster behind her, she is developing into the flagship of her sport's next generation, youngsters set to take over the reins when the stars of current world champions Alistair Brownlee and Helen Jenkins some day fade.
Whereas the Brownlee brothers and Jenkins maintain their own training bases in Yorkshire and Wales respectively, British Triathlon nurtures its new blood using a centralised programme in Loughborough, in the hope of prolonging Britain's domination of the sport.
On the men's side, Matt Sharp took last year's under-23 world title and Britain recorded a one-two-three on the podium at the season finale in Beijing.
Now, Hall's work has paid off in a senior international race for the first time: at the start of this month she won a Premium Pan-American Cup event in Ecuador. Going from a top junior to a winner at senior level - even in a race missing the world's very best triathletes - is a big step.
In winning that race she followed in the illustrious footsteps of Jenkins, who similarly recorded her first senior victory in a Pan-American event back in early 2008. But Jenkins took three extra years to get that far, doing so as a 23-year-old.
"I didn't go out there thinking I had to win, I just wanted the experience of senior racing, so I was quite surprised," says Hall.
"Helen and I are completely different athletes and everyone develops in a different way, at different stages of their careers. It was amazing to win but I don't really like to compare myself - 'Helen didn't do this, Helen did this.' It is cool to get compared to her, but I try not to. I try to keep grounded."
As Hall was growing up, British triathletes were coming into their own. Tim Don, Will Clarke, Stuart Hayes and a succession of others began to make their mark on the sport following Simon Lessing's world titles for Britain in the 1990s. But none made any impression on her.
"This will sound bad but I was always oblivious to the top British people in the sport like Tim, Helen or Stuart. I was into normal things like friends, bowling, the cinema and shopping. I've been doing triathlon since I was eight, but I wasn't really into the sport like I am now," she says.
"My dad got me into it. He used to do Ironman-distance races and I was quite tomboy-ish, I used to play rugby, tennis and cricket as well."
The question is whether Hall, Sharp and a raft of similarly talented young Brits can themselves make an impression this year.
Sharp previously told the BBC he believes he has a "good shot" of reaching the Games but Hall thinks London 2012 is a distant prospect for her, as part of a national side packed with experienced, top-ranked triathletes.
"Everyone asks me about 2012 and it'd be so cool to go, but there's Vicky Holland, Jodie Stimpson and Liz Blatchford that are all top-10 podium athletes, who did so well last year," says Hall.
"I think I'm too young and the experience isn't there. I'm not as quick a runner as those girls, that's what I need to improve, and I know that's not going to happen overnight. It's going to be a long process.
"I don't want to write it off completely - you never know - but realistically it's not a goal."
But then, Hall confesses she is a pessimist.
"I've been told I'm quite negative before races, but that's how I think, how I'm made up. I can't think positively, it's not what I'm like and I don't think that'll ever change.
"Last year when I won a junior European race in Holten [in the Netherlands], everyone told me how confident I must be going into the World Juniors. But no. I was so nervous going onto the start line in that race.
"I don't like being the one to beat. I'd far rather be the one saying, 'No, you're the one to beat.'"