London 2012: Alistair Brownlee aims to be fit for Olympic triathlon
Last updated on .From the section Triathlon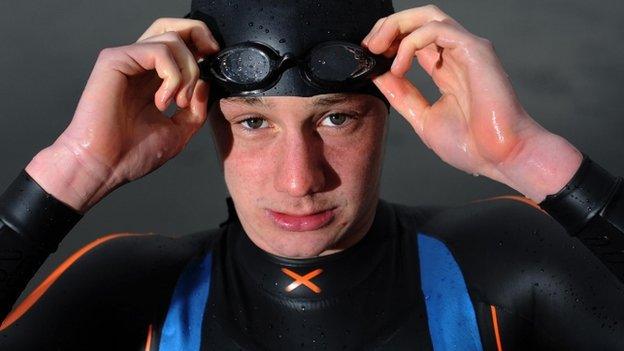 Great Britain's triathlon world champion Alistair Brownlee says he is hopeful of making the Olympic Games despite a tear to his Achilles.
The 23-year-old from Yorkshire is back in light training after suffering the injury last month.
But Brownlee will miss a planned return at the San Diego World Triathlon Series event in May.
"There's plenty of time and my focus at the moment is just getting it healthy," he told BBC Radio 5 live.
Brownlee is the reigning world and European champion, having beaten younger brother Jonny into second place for the world title in Beijing last year.
He is unsure when he will return to action.
"It depends how long it takes to clear up and for me to get back to training normally," said Brownlee, whose foot was in a protective cast for three weeks.
"I'm definitely not going to race in San Diego now and where I race after that I'm not sure. There's another one in Madrid [26-27 May] and then Kitzbuhel [Austria, 23-24 June] and a few races I can do in France along the way.
"I'm not actually concerned about the racing. I'm concerned about getting the Achilles ready and getting a good block of training, that's the important thing.
"That's the big worry for me really. I can get fit and up to maximum fitness quickly. I know how to do that, I've done it before."
With the men's Olympic triathlon taking place in Hyde Park on Tuesday 7 August, Brownlee is disappointed that his preparation has been interrupted.
"You suddenly go from training for six or seven hours to doing nothing. It's very hard dealing with that time and the empty space it leaves in your life," said Brownlee.
"If I said it was a good thing and gave me some rest and put a positive spin on it, that wouldn't be quite right, but it could have been worse. It could have happened in two months' time or been a more serious injury.
"This year is 2012 and you want to be able to train and be in the best possible position to be on that start line.
"You feel you are not doing that so the frustration is especially difficult. You learn to deal with it and hopefully it gives you a bit more energy and motivation for when you do get fit."