Aileen Morrison 28th and Gavin Noble 35th in Sydney
Last updated on .From the section Triathlon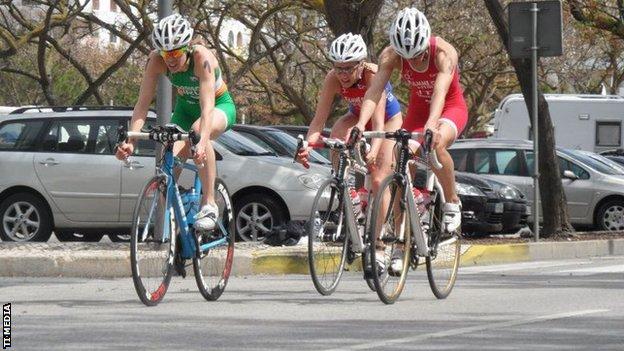 Northern Ireland's Aileen Morrison continued her build-up to the Olympics by finishing 28th in Saturday's opening ITU World Series event in Sydney.
Australia's Erin Densham won with a time of two hours one minute and 29 seconds while Morrison, already sure of her London place, clocked 2:03.49
Enniskillen man Gavin Noble's 35th placing in the men's race should boost his chances of Olympic qualification.
His time was 1:53.26 in a race won by Germany's Steffen Justus.
Noble needed another consistent performance to maintain his prospects of getting to the Olympics.
The Fermanagh man had a good start to the season placing fifth at an event in Barbados but then suffered a setback after injury caused him to reduce his training for a number of weeks.
The 31-year-old had spent a number of weeks warm-weather training in South Africa.
Morrison reported on Twitter that she had been hampered by stomach trouble on the run, but was pleased with her swim and cycling.
"Finishing 28th was a little disappointing, but maybe one day it will all come together," she said
The second World Championship Series event is 10-12 May in San Diego, followed by Madrid from 26-27 May.