Aileen Morrison second in World Cup race in Japan
Last updated on .From the section Triathlon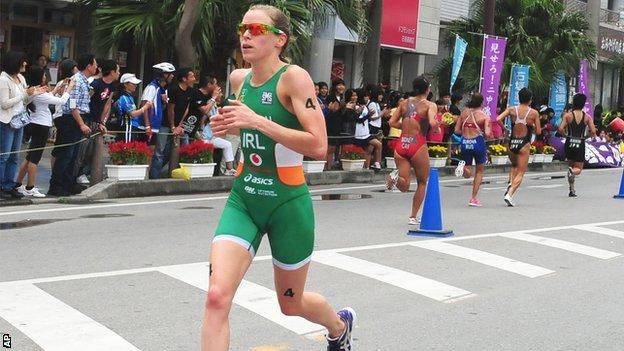 Aileen Morrison continued her build-up to the London Olympics with an impressive second place in the Ishigaki ITU World Cup event in Japan on Sunday.
The Derry woman was in second spot after the 1500m swim but fell well behind during the 40k bike stage.
Morrison worked her way through the field in the 10k run to secure a second podium finish of the season.
Enniskillen's Gavin Noble, who is targeting an Olympic spot, was 24th in the men's race.
Kathy Tremblay won the women's race in 2:05:38 with Morrison 20 seconds back and Sarah-Anne Brault in third.
"I wasn't in a good position coming out of T2 but I took it nice and steady and tried to catch up." said Morrison.
"I'm pleased with silver. Obviously a little disappointed I couldn't have a chance at the gold but Kathy had an amazing race and she ran really well so fair play to her."
"I wish I had of been with her coming out of T2 and maybe I'd have had a better chance."