Jonny Brownlee guides GB to triathlon mixed relay world title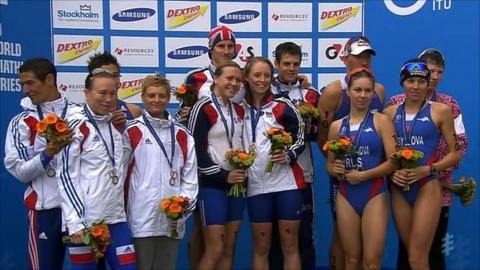 Jonny Brownlee helped Great Britain defend their mixed relay World Championship title in Stockholm.
Olympic bronze medallist Brownlee, who won the men's individual sprint in the Triathlon World Series event the previous day, was joined by Will Clarke, Vicky Holland and Non Stanford.
The British team beat France and Russia in a wet race in the Swedish capital.
In the mixed relay format, each athlete completes a 300m swim, 6km bike and 2km run before handing on to the next.
At the 2011 Lausanne ITU Triathlon Mixed Relay World Championships, Great Britain won with the team of Jonny and Alistair Brownlee, Helen Jenkins, and Jodie Stimpson.
A decision on whether mixed relays will be included in the Olympics for Rio 2016 will be made in September 2013.
ITU Triathlon Mixed Relay Result:
1. Great Britain 1:26:48
2. France 1:26:58
3. Russia 1:27:31