Irish triathlete Aileen Reid to train abroad in 2013
Last updated on .From the section Triathlon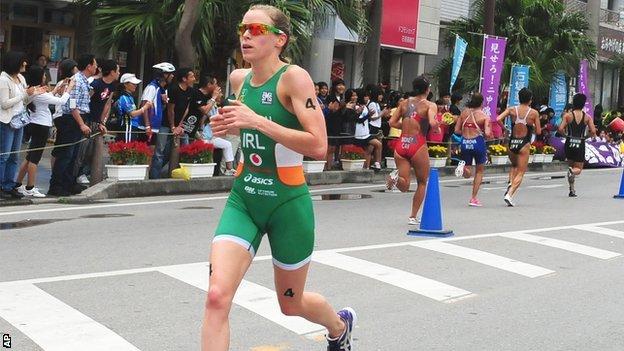 Irish Olympian Aileen Reid is to move from Triathlon Ireland's high performance team and will instead train in various warm-weather locations around the globe in 2013.
The recently-married Derrywoman will switch coaches from Triathlon Ireland's performance director Chris Jones to the squad of renowned trainer Darren Smith.
Reid, 30, will be based in Canberra from January until March.
This will be followed by training camps in the USA and various other locations.
Following her three months in Australia, the Northern Ireland triathlete will have her season opening event in Auckland before spending three weeks in Arizona.
A training camp will then take place in Europe before various races in San Diego, Japan, Madrid and Stockholm.
Reid, who married her husband David in New Zealand earlier this month, also plans to have a two-week training block in Ireland during some part of the season.
Smith's group has included Olympic silver medallist Lisa Norden, who also won this year's World Series competition, while the Irishwoman's training companions will include Britain's Jodie Simpson and South African Kate Roberts.
Despite leaving Triathlon Ireland's high performance unit, Reid will continue to receive support from her national governing body as well as being funded by both the Irish Sports Council and Sport Northern Ireland.
"I've spoken at length with Chris and the high performance team and we feel a change in the training environment is a good thing," said Reid.
"Coach Darren Smith has a group of internationally recognised triathletes and I'm looking forward to the challenge of training with them.
"I really enjoy training in Northern Ireland with Lisburn City swim club and Maryland Wheelers but I will now have the opportunity to train in Australia with the girls I will be racing against as well.
"I hope to bring back some of the lessons I've learnt to Northern Ireland before I finish my career."
Jones added that Reid's move to Smith's group represented an "exciting opportunity" for the triathlete.
A second place in the Madrid World Triathlon Series event helped Reid finish the season with a world ranking of seventh although her Olympic hopes were hit by a crash early in the bike leg as she eventually finished 43rd.