Chrissie Wellington quits Ironman triathlon racing
Last updated on .From the section Triathlon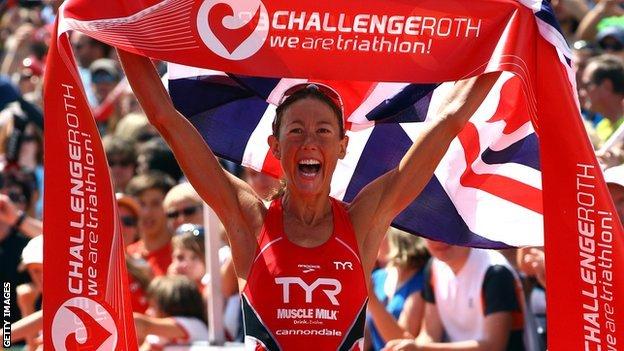 Britain's four-time world champion Chrissie Wellington has retired from professional Ironman racing.
The 35-year-old, who and was unbeaten in the event, took a break from the sport in 2012 to "explore other opportunities".
The Norfolk athlete said: "The World Championships in 2011 was the icing on the cake. It was my perfect race and it completed me."
The race consists of a 2.4-mile swim, a 112-mile bike ride and 26.2-mile run.
"My passion for the sport hasn't waned but my passion for new experiences and new challenges is what is now burning the most brightly," Wellington, who is from Feltwell, added.
"My future will, of course, involve sport and triathlon but it will no longer be the axis around which my entire life revolves."
Wellington was unbeaten in 13 Ironman races and has set the four fastest times for the race, setting the female world record of eight hours 18 minutes and 13 seconds in Germany in July 2011.
She won the 2007 world title, which is always held in Hawaii, less than one year after turning professional and followed it with victories in 2008 and 2009, lowering the 17-year-old course record to 8:54:02 in her third victory.
Illness stopped Wellington from competing in 2010 but she returned to claim her despite entering the race with a host of injuries following a bike accident in training.
Before becoming a professional triathlete, Wellington worked for the British government in an advisory role.