Triathlon champion Alistair Brownlee relishes racing return

By Tom Fordyce
Chief sports writer, BBC Sport
Last updated on .From the section Triathlon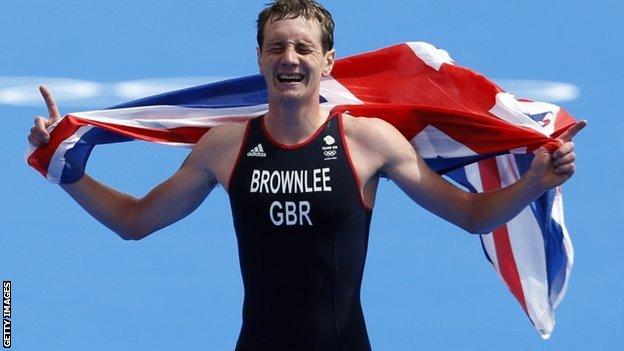 Olympic triathlon champion Alistair Brownlee is relishing his return to top-flight racing after a testing time since winning gold last summer.
Brownlee, who had an emergency operation to remove a swollen appendix a few months after his London 2012 triumph, competes at the Abu Dhabi triathlon this weekend.
He told BBC Sport: "When I first got back to training after the Olympics for a couple of end-of-season races, it was hard going on.
"But by the time I had had my appendix removed, been on holiday and done thousands of commercial commitments, it felt like the best thing in the world to return to training.
"Training is a constant in my life. It's what I've always done and it feels very natural. It's nice to be back to normal, cycling on the same familiar roads with the same people I've always cycled with."
In Abu Dhabi, Brownlee will be racing over a different distance to his regular Olympic format, with a 100km bike ride - rather than the usual 40km - between the 1500m swim and 10km run.
It is also much earlier in the calendar than he would usually race, but both those challenges suit his aims after such a high-pressure 12 months.
Brownlee suffered a serious Achilles injury early last year and faced a race against time to get fit for the Olympics, competing only once in a World Series event before London.
He admitted: "It's a very early start for me. Usually I don't like to race until the season reaches Europe in late May and early June, but I wanted to try something different this year.
"I wanted to have a different focus over the first few months of the year. I'm trying to learn from the past, where I seem to get a horrific injury every January, so having a bigger focus on the bike early on is a good thing.
"Looking forward, it's good for me to try out some longer races, and this is an easy way to do it - early in the year, so it won't affect my chances in the World Series, and with a long bike rather than a long run, which is the element which might cause most injury issues.
"It's a non-drafting race, meaning I'll be time-trialling on the bike, and that's a good challenge for me - it's not been easy practising time-trialling in -2C in Yorkshire, but it's also a different skill; I'm used to lots of short, sharp efforts where this is two hours of steady-state riding."
The course in Abu Dhabi begins with a swim in the Arabian Gulf before the bike leg crosses over onto Yas Island, home of the city state's Formula One circuit.
Brownlee's following race will be the World Series event in San Diego in May, where he will begin his quest to win back his world championship title from younger brother Jonny.
He is then planning to race in Madrid, Kitzbuehel, Hamburg and Stockholm before ending in London in September, hoping to avoid the injuries that have dogged him over the past couple of seasons.
He said: "I had a sore knee over Christmas, but that has cleared up nicely.
"I've purposefully not been training quite as hard on the run - cutting back a little on both the top intensity and mileage - so that might be why I've been OK."
Brownlee, 24, spent some of January training in Altea in Spain rather than at home in Leeds.
"The weather has been so bad at home, and one of the things that might have contributed to my injuries in the past was training in bad weather, especially snow," he said.
"It was a good excuse to go to Spain. And the cycling there is fantastic - great roads, some fantastic cycling."
The winter has also seen a change in Brownlee's domestic arrangements, with Jonny moving out of the house the brothers have shared for three years and into his own place.
"Jonny hasn't gone far - he's just up the road, only a 500m run away - but it's been good to have more space in the house," said the older brother.
"We were joking this week that we wouldn't fit in the same house any more, we have so much stuff. But we still do most of our training sessions together."