Triathlon: Katie Hewison ready to test herself against world's best
By Piers Newbery
BBC Sport
Last updated on .From the section Triathlon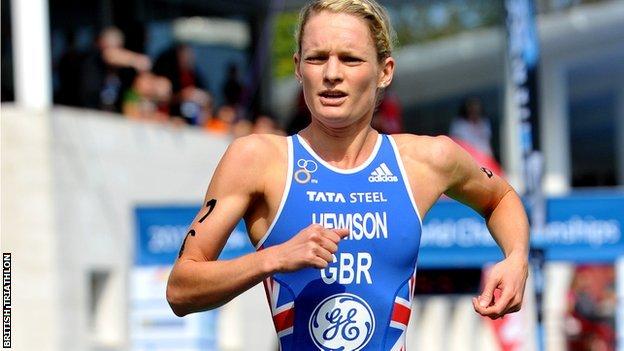 Katie Hewison might have beaten the banker on Deal Or No Deal, but she says the pressure will be greater when she lines up in the World Triathlon Series for the first time on Saturday.
The 27-year-old from Chorley in Lancashire was only able to set out on her dream of becoming an elite athlete after winning £40,000 on the Channel 4 game show in 2009.
It allowed her to join the British Triathlon identification programme trigold and, while it has been far from plain sailing since then, she is about to join triathlon's elite company in Auckland.
"Although Deal Or No Deal was nerve-wracking, because it's a big thing to win that kind of money, it's a totally different thing to racing, which I've basically been preparing for since I first learnt to swim," said Hewison.
"Deal Or No Deal is just a game of luck and I hadn't done any preparation for it. I just turned up, opened a few boxes and got extremely lucky.
"This is my life and my dream, and there's a lot more pressure and expectation that I put on myself when I come to the start line. But I love it. I love competing and that's why I do it."
Hewison opted out of trigold in 2010 as she struggled with injuries and is currently supporting herself - save for a £500 training budget from the governing body - with help from businessman Barrie Wells, who has backed a number of Olympians including Jessica Ennis and Liam Tancock.
That has allowed Hewison to work with Australian coach Darren Smith, and since January she has been training with his group of 12 international triathletes in Canberra.
Hewison could be forgiven for having other things on her mind as she continues to try to keep her head above water financially, all the while preparing for her husband, Sam, to go overseas himself.
"He's in the army and he's going to Afghanistan at the end of May," she said.
"In a way it was really good timing for me to come and join Darren's group. With him going to Afghanistan for six months, it's going to help me being away and focusing on this.
"If I was at home, I think it would be quite difficult for me. It's been tough these last six months because he's been preparing for Afghanistan and I've been preparing for the World Series, but we're both very supportive of each other's ambitions."
A recent surprise visit from her dad in Australia and the promise of spending a fortnight with husband Sam after Auckland has kept her spirits up, but Hewison is fully focused on what could be a decisive period in her career.
A talented athlete in her teenage years, during which she got to know the Brownlee brothers while fell running, Hewison has shown her ability by becoming world duathlon (bike and run) champion in 2011, and winning a triathlon World Cup race at the end of 2012.
That success only arrived after she came close to quitting the sport two years earlier when a succession of injuries led to her taking a break from the sport.
"I took myself out of the British triathlon system and decided to work independently of that - it just wasn't the right set-up for me in Loughborough - so I left in 2010 and did a little bit of work on my own in Aldershot, where my husband is based.
"The trigold programme was fantastic and I don't regret for one minute what I did at the start, but, looking back, the whole programme was just far too intense and fast-track for the capabilities of where I was at.
"It started off great, everything was new and exciting and I was receiving funding. It was everybody's dream, being a full-time athlete, but as soon as the injuries started... I was brought into the scheme as an Olympic hopeful for 2012 and that dream started slipping further and further away.
"You end up on a spiral and it's so hard to get yourself out of it. I remember one session I had a shoulder problem, so I was struggling to swim, a foot problem, so I was struggling to run, and a back problem, so I was struggling to bike! It just spiralled out of control and I thought enough was enough.
"After a few months' break I realised I hadn't achieved what I wanted to and I was in this sport to try to go to an Olympics. In a way it's made me stronger because I'm more determined to prove to myself what I can do."
Hewison did make to it to London 2012 but only as a spectator, watching as triathlon took over Hyde Park. "It was gut-wrenching," she admitted, "but it was an amazing experience."
The 2016 Rio Games is now the target, with the Commonwealth Games along the way, but to get to either she will have to impress in this year's World Series, starting on Saturday.
She has yet to meet British Triathlon's new performance director and new head coach, and will do so for the first time in Auckland.
"The idea is we're hoping to get onto funding this year but I have to get certain criteria, which will include top 20 in the world, if I want to get lottery funding," said Hewison.
"So that's the goal we're working towards. We work with them, and I've got no problems with them, it's just the money side of it as I have to support myself at the moment, which is quite difficult, but we're getting there."
The pressure is on, and Hewison has spent much of the build-up working on her swim - "the weak link".
"Working with Darren and looking at the progress I've made in the last three months, I'm really excited to see where I actually sit in terms of the other girls.
"I'm not going to know that until the first few races, and there are a lot of things that I've not done before - having a mass start of 70 women and being in a race as prestigious as the World Series. I'll gain a lot of experience at the start of the year, but I'm really looking forward to it.
"By the end of the year we're hoping to be in really good shape and competing for some podium positions."