Jonny Brownlee ready for World Triathlon Series title defence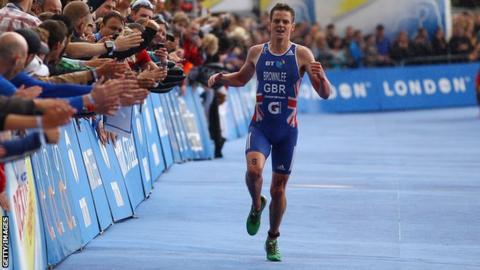 World triathlon
Venue:

Yokohama, Japan

Live coverage:

Red Button - 11 May: Women's race 00:00-02:00 BST; Men's race: 03:00-05:00 BST.

Highlights:

BBC2 - 12 May: 14:40-15:45 BST.
Jonny Brownlee will race in the shadow of absent elder brother Alistair as he begins the defence of his world triathlon title in Japan this weekend.
Alistair stormed to Olympic gold at London 2012, with Jonny taking bronze after being given a 15-second penalty.
Jonny told BBC Sport: "Beating Alistair is a massive mental barrier for me.
"Alistair keeps improving. He keeps getting faster. I'm not sure what it will take to beat him. Maybe my only chance is a sprint finish."
The 23-year-old added: "He can run really fast now, as his 28 minutes 30 seconds on the track showed.
"If he's running in that class you're not going to break away from him on the run, and it wouldn't make any sense to try to break away on the bike."
The younger Brownlee makes his World Series season debut in Yokohama on Sunday, while 25-year-old Alistair - three weeks after he took a dominant victory in San Diego - returns to training after his recent 10,000m track debut in Stanford.
The world title is decided by the best four results a triathlete produces over the seven World Series events, plus the Grand Final in September.
Injury kept Alistair out of all but one World Series race last summer as Jonny sealed the title in Auckland in October.
"Although I was world champion, it felt weird, because the Olympics were the big thing," he says. "When I won the world title it was more a sense of 'thank God that's over with'.
"I don't really feel like the world champion now. It feels like a whole new world. The Olympics have been done, and a new era is starting.
"It's not a bad thing, because you need to put something like that behind you and move on. Sport is short term. You can't dwell on that past. The Olympics is done, last year's world championship is done."
Jonny, the younger brother by almost exactly two years, has never beaten Alistair when both have been fully fit and healthy.
But as he approaches physical maturity, the gap between the two has continued to narrow. With both planning to race the four World Series events after Yokohama as well as the climactic Grand Final in London in September, the battle between the brothers will be closer than ever.
"It's the older brother thing, as much as anything - he's older than me, therefore he's always beaten me," says Jonny. "But we won't know where we are until we start racing.
"I've not done the same run session as him since before Christmas because he had a sore knee. I got injured in January, when I started to get fit again we were doing different sessions, and then he was away racing and training. So we're coming into it completely blind.
"It's been a very bitty winter of training. It doesn't feel like a smooth overall plan, and because I'm such a routine person, not to have that structure has been difficult for me. But it's coming back to normal now, and normality for me is good."
Jonny moved out of Alistair's Yorkshire home last winter and into a house of his own after three years of sharing, something which has helped him through a testing period.
"I'm not used to being injured - for three years I've been completely fine, able to choose my races, starting when I want. Not being able to race in San Diego, and seeing Alistair going away to race, is tough for me.
"Last year was so long. It took loads out of me, with the whole Olympics stress and then having to race on afterwards.
"It absolutely killed me, all that racing. So it's quite nice in some ways that other people have started racing and I'm still at home. When you're sat at home, it's snowing outside and your rivals are racing, it's a weird feeling. You feel like you're in a different sport."
In Japan, he will come up against Olympic silver medallist Javier Gomez, with South Africa's Richard Murray and twice Yokohama winner Joao Silva also likely to be threats.
If conditions there will be unfamiliar, the Grand Final in Hyde Park, on the same course as the 2012 Olympics, is likely to bring mixed feelings.
"Competing on that course again - it's very special, and part of me wants to experience it again, but part of me also wants to move on," he said.
"It was incredible last year - the number of people cheering us on, the amazing atmosphere - but it also makes you want to leave that alone, simply because it was so good.
"I'm torn between the two. To go back again, there's the fear it might be worse. I want to experience it all over again, but I don't want to go back and screw up.
"To win there would be great, to do it all right this time - not to get a penalty, to have the best run of my life, to beat Alistair. But could it beat last year? I don't know."