Jonny Brownlee wins triathlon gold in Japan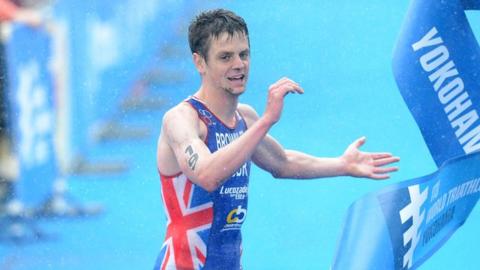 Defending World Triathlon Series champion Jonny Brownlee marked his return to action with victory in Japan while Jodie Stimpson celebrated her first podium.
Brownlee, 23, had been told he could miss the entire series with an ankle injury but led the third race of 2013 from start to finish, clocking one hour 44 minutes 59 seconds.
Javier Gomez was second in 1:45:23 and Joao Silva took the bronze in 1:46:16.
Gwen Jorgensen won the women's race.
But Briton Stimpson was delighted her early season form resulted in a first series medal.
"I couldn't be happier. The main thing was the run started going into T2. I knew if I had a good transition that the people would have to sprint to catch up.
"We knew Gwen [Jorgensen] was closing and I tried to stay with her but I couldn't, her legs are up to my arm pits! We did everything we could to hold her off but she showed her class there.
"Coming into the finish I knew I needed the inside line going into the final corner but she [Moffat] just had the edge on me in the sprint finish at the end."
A relieved Brownlee said: "At the start of the year I was told I wouldn't be racing at all this season, so I got a bit emotional towards the end because this year I thought I wouldn't be here at all.
"I thought the season was over two months ago.
"I didn't know what to expect at all, to cross the finish line was more relief than anything."
Brownlee's elder brother Alistair, the Olympic champion, won in his first appearance of the series at the previous race in San Diego three weeks ago but the Briton chose to miss Yokohama after finishing second in a recent 10,000m track race in the United States.
In his first start of the year following a series of ankle problems, Brownlee junior, who clinched last year's title in the Grand Final in Auckland, produced a similarly impressive all-round performance.
A leading group of eight entered the second stage of the competition one minute and 30 seconds ahead of the closest challengers but the concluding run became a duel between Olympic bronze medallist Brownlee and Gomez, the Olympic silver medallist and runner-up to the Briton in last season's series.
Brownlee clocked a remarkable 7:11 on the second lap of the four-lap race and powered away to record his fifth career series victory, putting him equal second with Gomez in total of wins in the series.