Iron Lady Leanda Cave on cancer, injury and keeping her world title
Last updated on .From the section Triathlon
World champion Leanda Cave is not your typical athlete - which is not surprising considering the sport she excels in.
She leads the field in the Ironman triathlon, a non-stop 140.6-mile gruelling race combining swimming, cycling and running. It's an awe-inspiring contest in which the small matter of a marathon is merely the third and final component.
Cave, who has battled asthma since 1996, still manages to compete in the sport she loves, despite also being diagnosed with skin cancer in February.
"It's unfortunate but I spend so much time in the sun I feel it was bound to happen sooner or later," said the 35-year-old - who became the first woman to win the half-Ironman and Ironman world titles last year.
"It is something that is going to be ongoing, I will be having constant check-ups and will probably have more skin cancers removed as I get older. I just thought it would happen to me a little bit later than when I was in my 30s.
"Once you get one it's kind of predetermined that you'll get another one. As long as I catch it early enough and I'm taking the precautionary actions to prevent them getting to a malignant stage then I'm happy with that."
Cave admits she needs to relax ahead of a race and her unusual preparations see her enjoying a couple of glasses of red wine the night before competing.
"A glass or two of wine helps me chill and helps me mellow out the evening before the next big day," she insists.
"I don't think there's any reason to change something you do on a daily basis just because it's the night before a race."
Cave will not have to wait long before her next big event as she will defend her Ironman World Championship title in Hawaii in October.
British athletes have enjoyed great success in this competition with Chrissie Wellington also winning four times in five years before her retirement in 2012.
Cave's preparations have been further hampered by a torn hamstring that she has only recently recovered from, although she remains confident of more glory.
"I never focus on being the best at the small races - it is about being the best at the big ones," she said.
"That is why I have had a lot of success in a lot of distances in triathlon, I have nailed the big day when it counted."
She might be a world champion in one of the toughest sports around but her profile, like Wellington's before her, is far behind that of Olympic triathletes.
Olympic distance triathlon is smaller in distance (32 miles compared to Ironman's 140.6 miles), but vastly superior in coverage - with the likes of British Olympic champion Alistair Brownlee becoming household names in comparison to Cave.
However, the 35-year-old has a successful history in Olympic-distance races, winning World Championship gold and Commonwealth Games silver in 2002, and is confident of racing in next year's Commonwealth Games in Glasgow.
Nevertheless, her biggest challenge could be to convince others of her ability and fulfil the Welsh selection criteria before the event in Scotland.
Her Commonwealth silver in Manchester came after a selection process that she described as being down to the fact "there was two Welsh girls, so let's just put them in".
Cave now faces greater competition for places, in the form of two-time Olympic distance triathlon world champion Helen Jenkins and reigning World Under-23 champion Non Stanford.
Welsh Triathlon also wants their athletes to be proven top-eight Commonwealth performers to be considered for their team.
With Cave concentrating on the defence of her Ironman world title later this year, she will face a battle to prove her credentials to the selectors before the qualification window closes in May next year.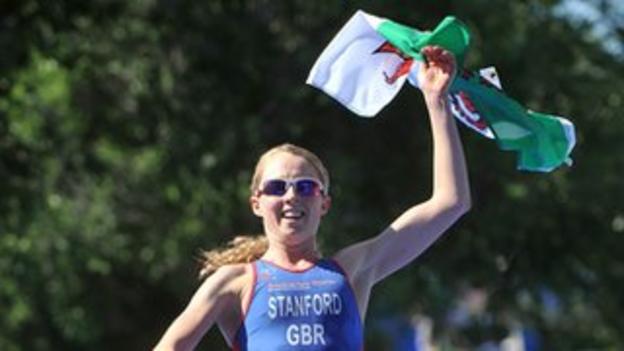 Cave will have to re-invent herself from an ultra-distance athlete into a comparative sprinter but it's a task she thinks is achievable.
"I'd have to call my sponsors and tell them that they'll have to keep supporting me regardless because right now I do the long distance with all my sponsors and that is what pays my bills," she said.
Although the world's best at her sport, Cave is also motivated to appear at an Olympic Games after missing out on qualifying for Sydney in 2000 and Athens four years later in her pre-Ironman days.
She concluded: "I know I am getting on a bit. But I see athletes out there still racing in their late 30s. Natascha Badmann is still racing in her mid-40s and she was top ten in Hawaii last year.
"The Olympics has always been a dream of mine."