Brownlees aim for perfect finish to testing triathlon season

By Tom Fordyce
Chief sports writer
Last updated on .From the section Triathlon79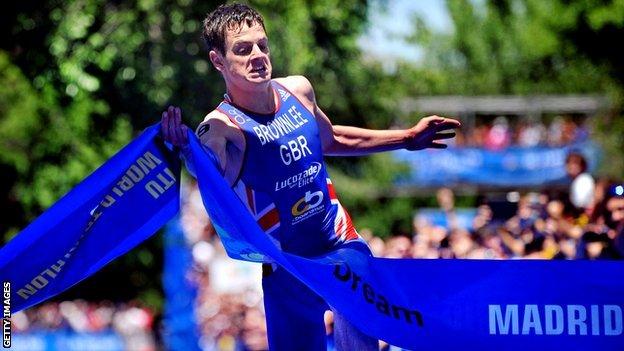 As summer slips into early autumn, all should be bright in the world of the Brownlee boys.
One the Olympic gold medallist, the other reigning world champion. One more big race, one more world title up for grabs. A year on from their fraternal dominance of the London 2012 triathlon, a return to the same iconic venue, off the same pre-race preparation, to quite possibly the same outcome.
If either wins Sunday's Grand Final in Hyde Park, they will be crowned world champion. If either finishes ahead of the only other genuine contender, Spain's Javier Gomez, the title will also heading back to Yorkshire for the fourth time in five years.
So far, so untroubled. Except nothing about this campaign has been normal. Nothing has been easy. Every plan has been ripped up, re-made and then re-written once again.
"I wanted to have a nice, relaxing year," says Alistair. "Instead it's been tough. Incredibly tough."
It began with an injury to Jonny, the champion of 2011, the junior by two years. It continued with the usual springtime niggle for Alistair, this year an ankle problem, which flared up, recovered and then flared up once more.
What we might term the Law of Brownlee has still applied: when one of the brothers stands on the start-line, no-one else wins. This summer, each has won three of the seven World Series events. But each has also missed three. And when they have raced, it has forced them to question both what they do and how they do it.
"It's a nightmare scenario to go into a race feeling underprepared," says Alistair. "In San Diego (in April) I felt undercooked and said to myself, I'm never doing this again. And it turns out that's the best prepared I've been all year.
"A lot of it has been my fault. I should have been better with the rest I was taking, and more careful with what I was doing.
"I should have made sure I was completely right before rushing back to racing. But it's difficult with the World Series, because you're desperately chasing points. I couldn't have afforded to miss any more races.
"Maybe I would have been better missing a few to be properly fit now. But then I wouldn't be in the position that I am - a win away from being world champion again." He pauses. "I don't know what's best."
Such admission of doubt is unusual for Alistair, the confident elder sibling to Jonny's more anxious younger brother. Jonny's own injury healed faster and more reliably. But he too was beset by uncertainties.
When he held off Alistair to win in Hamburg, his celebrations were restrained, the pleasure of a rare sibling scalp muted by the nagging sense that Alistair's stymied run training and Hamburg's half-distance course rendered it less relevant. In Yokohama and Madrid, Alistair absent, his wins also felt amended by asterisk.
"It's been a strange year," he admits. "I haven't really enjoyed it. It's been so fragmented."
For Alistair, it has meant seeking out silver linings - new tricks in training, unexpected tactics in the breathless harum-scarum of race-day.
"When you stand on the start line you want to feel that you're in the best possible condition," he says. "That you've done everything you can to prepare, and that there is no excuse why you can't produce your best possible performance.
"Unfortunately it's been different. But I still wanted to race, and if I was going to race then I wanted to be competitive. I couldn't just turn up.
"I've had to tell myself that it's a challenge. And I've been forced to be inventive."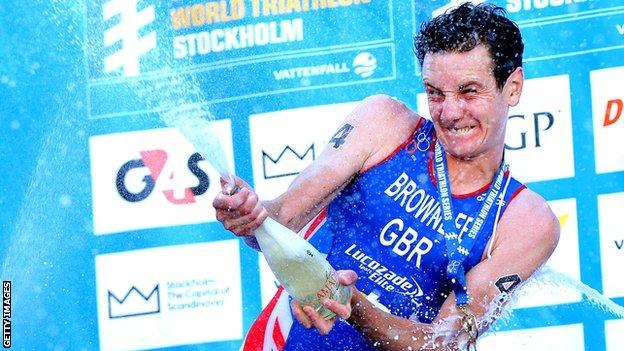 Last month in Stockholm, aware that his running was below par, that meant breaking away on the bike - a gamble, a burning up of finite energy, but one that paid off when the pursuing pack failed to reel him in.
This weekend, it will be more difficult. The bike course around London is flatter, with long straights that make breakaways easier to chase down.
Then there are the permutations. Alistair's lead at the top of the world rankings is just 55 points over his brother. Gomez is a further 120 back. With 1,200 points awarded for first place this weekend, any of the big three could yet take the title.
On the ITU's World Series website there is a 'podium predictor' that allows you to play around with the various possible outcomes. A win for Alistair and he is world champion, the same for Jonny.
Then it gets complicated. A win for Jonny with Gomez second would see Jonny retain his overall title with Alistair second - his ideal scenario.
Might he be better off working with Gomez against his usual blood ally? Or, since Alistair can finish second to the Spaniard and still triumph overall, might the reverse not also be true?
The elder brother, champion in 2009 and 2011, laughs. "The best option for me would be for me to do a Ben Ainslie and block both of them. Finish 23rd with them 24th and 25th.
"If Jonny comes second and I come third, then neither of us gets the world title. So the way I'm looking at it, basically I have to win.
"You can't go into races thinking about the connotations of it. You have to race like any other race. If things aren't going right that you can be more inventive, but otherwise it's do as well as you can - otherwise you can get caught up with so many other things."
Indicative of the contrasting characters of the two is that, while Alistair has not seen the predictor, Jonny has played with it for hours.
His ideal scenario is a simple one: get in a good group of 10 or so on the bike, get away with Alistair early in the run, and then kick away to victory in the final kilometre of the 10.
Is Alistair's running strong enough to hold his brother off, as it always has been when he's been fit? Since Stockholm he has been able to do almost nothing, his sessions so limited that he has trained on the track with Jonny just five times all summer.
"I think I could give it a good go," he says, "but it's not where I'd like it to be. I thought I was getting back to normal, but then it went again."
For both there will be the oddness in returning to the scene of their podium places last August. Not only are the start and finish lines identical to London 2012, but the pair are staying in the same hotel, catching the same train down from Leeds.
"The last time I walked out of that hotel was 24 hours after the race," says Jonny, who took bronze behind Alistair and Gomez on that overcast summer's day.
"I've run through Hyde Park since then and that has been seriously creepy. It's knowing where things were, and getting flashbacks - a Bingley Harriers vest there, a certain voice over there, Glenn the British coach shouting timings out.
"It will feel weird going back. That whole day was so good - the noise, the crowds. To go there again and experience something great but not quite as good - I'm kind of torn. It feels like a long time ago. Everything else that has gone on."
Is there a sense of unfinished business, of revenge, for the younger brother? In that Olympic showdown a 15-second penalty for mounting his bike a fraction early left him wondering afterwards whether his bronze was thus some kind of failure. Is London 2013 a chance to put that right?
"I've not thought about revenge at all, because it's quite a strong word. Revenge against people? The whole penalty thing was my fault.
"This is a separate race. I want to win because it is a world championship, not because of the Olympics.
"Being world champion again would feel more special this year. Last year it was an extra on top of the Olympics. This year it's been the main goal."
What of Alistair, Olympic champion? How would a world title this weekend compare to his other two?
"This one would be the most satisfying, by a country mile. Because it feels so hard fought for. I've gone through so many tough sessions, so many tough days and weeks, the way all my plans have fallen away."
It might also, remarkably, be his last.
The injuries of the past few years have had a mental as well as physical impact. At 25 years old, he is starting to wonder if changes need to be made, ambitions focused.
Discussions with his wise old owl of a running coach, Malcolm Brown, have taken place. Plans are being outlined.
"I'm going to take some steps this winter just to get back properly, have a good long rest and let everything recover, and then see how I can change my training at different times of year, what I can do strength-wise to get as protected against injury as possible.
"But the World Series needs me to race week in, week out. Is that for me?
"I hope I'll be able to do it. But it might be the case that it's not. It might be that I just have to hit a few of the big races each year, and look forward to the Olympics.
"That's definitely a question. Because the World Series can be so tough on the body." He pauses again. "I've definitely thought about it."