Melissa Reid celebrates 'incredible' year after world titles
Last updated on .From the section Triathlon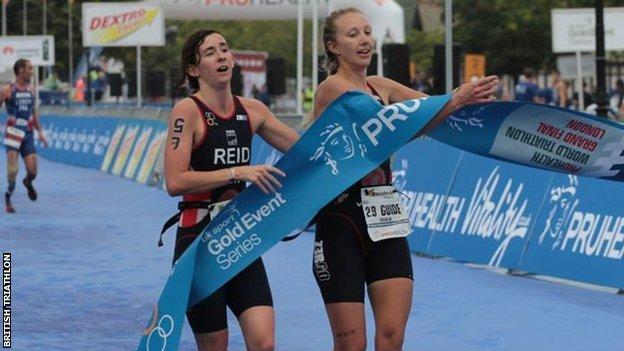 Cornwall paratriathlete Melissa Reid has reflected on an "incredible" year of success after winning two world titles in the space of a week.
"I can't believe I'm world champion," said Reid, who had already won the 2013 British and European titles.
"It's been an incredible year for me. I couldn't be happier right now."
Reid and her guide Nicole Walters - herself a Great Britain-standard age-group triathlete - beat her main rival Susanna Rodriguez into second place in Hyde Park in front of a large crowd.
"In 2011 I raced in Hyde Park and finished second, it's fantastic to win gold two years later in front of a massive home crowd," said Reid.
'I had a solid swim, and held my lead on the tandem, despite the slippery course.
"We then managed to pull away on the run, setting a PB time. Thanks to everyone for the support, especially those who came along to cheer me on."
The 22-year-old's father and coach Allan Reid added: "I couldn't be prouder of Melissa. Everything we're doing is working towards Rio and it's really good to see Melissa performing so well having only been in the sport for two years.
"We will have a month off, and then will create a plan for the 2014 season."
Reid's event takes place over a 750m swim, 20km on the bike followed by a 5km run.