Non Stanford will not jeopardise triathlon title in Glasgow
Last updated on .From the section Triathlon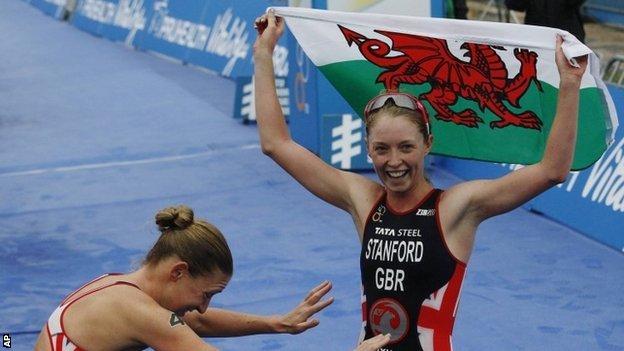 World triathlon champion Non Stanford says she will not jeopardise her chances of retaining the World Triathlon title at the Commonwealth Games in Glasgow next year.
"Triathlon is still the priority and my biggest chance, whereas the 10,000m would be more of an experience." she told BBC Sport.
"I'd love to give it a shot though."
Stanford, 24, ran a 10,000m in 32 minutes and 39 seconds in March 2013, under the Welsh Athletics' qualification time of 33 minutes, and Holmes thought that she could compete on the track in Glasgow.
But Stanford - who won the ITU World Triathlon championship - wants to prioritise her main event.
"Running against the Kenyans would be pretty tough, so it'll all be down to whether I can do it without jeopardising my chances in the triathlon," she said.
"I'll have to sit down with my coaches and hopefully we'll come to some agreement over it as it would be great to get inside the stadium and experience that atmosphere.
"The biggest challenge is going to be making sure I can do a 10,000 on the track in an official event first to get the qualifying standard."
Big challenges are certainly not beyond Stanford, who trained with a broken arm to keep alive her hopes of winning the triathlon title.
Stanford suffered the injury in July when she fell off off her bike in Hamburg but finished second in Stockholm a month later. She then went on to win the Final in London earlier this month and take the title - ahead of fellow Briton Jodie Stimpson.
"I went to St Moritz and trained with one arm strapped to me and did single arm swimming."
"There was never a point where I thought I wouldn't finish the season.
"Even when I was lying in hospital in trauma - with 12 people around me cutting off my tri-suit and sticking lines in me - it never even occurred to me to quit, which helped.
"I'm just really lucky that I have really good coaching and medical teams around me and they got me through it."