Ironman: Dan Halksworth aims for 2014 improvement
Last updated on .From the section Triathlon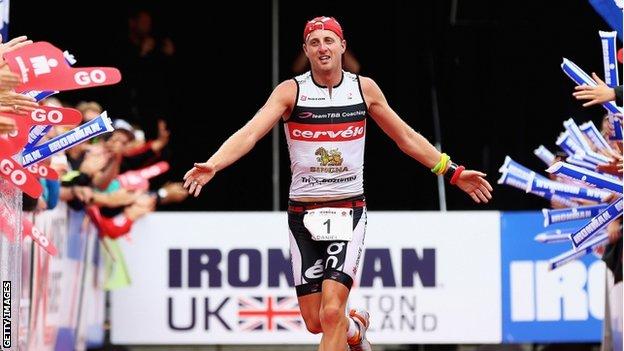 Jersey triathlete Dan Halksworth says he has already turned his attentions to next year's Ironman World Championships in Hawaii.
The 27-year-old made his debut last week in Kona and came 24th in the men's race and 31st overall.
"I'm already looking forward to going back next year," Halksworth told BBC Radio Jersey.
"This year was to gain experience and learn about the race so next year I want to go back and get a good result."
The Ironman discipline sees competitors embark on a 2.4-mile swim, followed by a 112-mile bike ride and a 26.2-mile run.
Halksworth has decided to leave the training group he has spent the last three years with at the end of the season, and is looking for a new coach.
"It's been a great few years and I'm grateful to the team and to my coach Brett Sutton," he added.
"They've really unlocked my potential and got the best out of me the last few years.
"Leaving the team is a pretty big move. I just felt that after three years that it was a good time to go our separate ways and hopefully find sponsors from Jersey to help me get to the Commonwealth Games and to Kona.
"Brett has got the best out of me and I've learned a lot from him. The team is going to go in a different direction and it doesn't really suit me, so I decided to leave.
"There's a couple of other guys from the team who are very good friends of mine who have left as well so now I can focus on training with them.
"I'm 27 and I think after three years it's nice to have a change and to see if there's other people out there who can help me just as much as Brett has."
Halksworth has enjoyed a successful 2013 and singled out defending his UK Ironman title as his personal highlight.
"It's been a great year and I am happy but I'm one of those guys who's hard on himself," he said.
"I wasn't overly pleased with my result in Kona but I know that it will make me better next year."