Guernsey name triathlon team for 2015 Island Games in Jersey
Last updated on .From the section Triathlon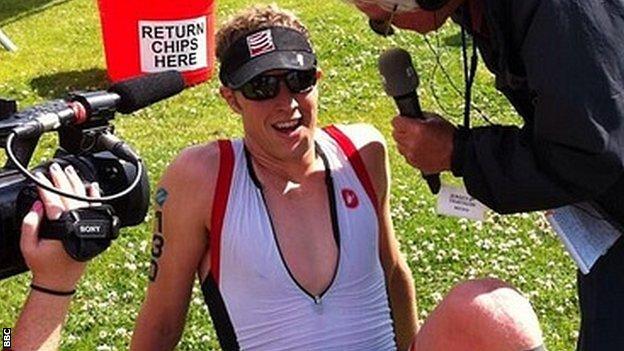 James Travers is the leading name in Guernsey's 10-strong triathlon team for next summer's Island Games in Jersey.
Travers in Liverpool earlier this month and is one of eight men selected to race.
Amy Critchlow and Magda Puzio are the island's female entrants for the Games, which run from 27 June to 3 July.
Guernsey have named their team early in order to allow their athletes enough time to prepare for the event.
The Games will be staged in the Channel Islands for the first time since Guernsey hosted them in 2003.
"As it stands, the squad is probably the strongest that Guernsey has sent to an Island Games competition and I am confident that these guys will not disappoint," said Mark Naftel of the Guernsey Triathlon Club.
"It will be a privilege to watch their hard work pay off representing Guernsey on the main stage next summer.
"James Travers has not been beaten locally for some time. He took a win in Jersey, was third in his age group and joint seventh overall in Liverpool. He has also qualified to race for Great Britain in the world age group championships.
"Ben (Creasey) has recently returned to race at a top level after some time away from the sport, winning our second selection race at Pembroke last weekend," Naftel added.
Guernsey triathlon team for 2015 Island Games:
Amy Critchlow, Magda Puzio, James Travers, Ben Creasey, Mat Dorian, Alan Rowe, James Gower, Bob Guilbert, Sean Murphy, Max Thornton. Reserves: Martin Chapman, Jon Osborne, Pippa Inderwick.