Ironman World Championship: Rachel Joyce eyes Hawaii title
Last updated on .From the section Triathlon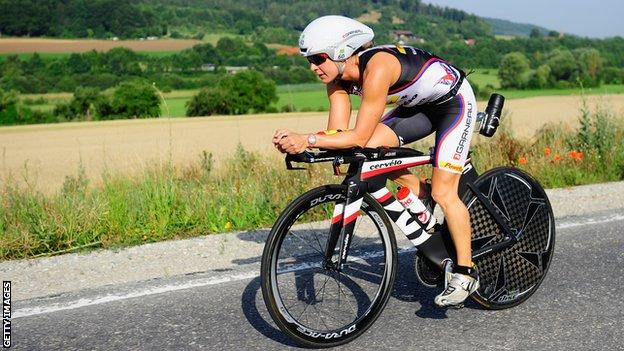 Most weeks, Rachel Joyce will run the equivalent of London to Brighton, cycle from London to Middlesbrough and swim nearly three quarters of the way across the English Channel.
It is all part of her training for the World Ironman Championships on Saturday, a 140.6-mile event in which she will be racing non-stop for up to nine hours.
The punishing demands are a world away from Joyce's former life as a city lawyer in London.
The 36-year-old made the career switch to a full-time triathlete in 2008 after success at amateur level.
"I didn't have any doubts because there's only a short window when you can perform in sport and I knew this would be an opportunity that wouldn't be there in 10 years' time," she told BBC Sport.
Now, instead of negotiating and sealing deals in an office, Joyce spends her days training, eating and recovering.
Diet on a big training day
Breakfast:
Half a cup of oats with flaked almonds, fresh berries, a little honey and almond milk. A cup of tea, two glasses of water.
On the bike:
2-2.5 litres of energy drink (approx 150-200 calories), one packet of energy sweets (200 calories), one energy gel in preparation for the run.
On the run:
Water before she leaves. An energy gel if needed.
Midday:
Post-workout recovery smoothie: One scoop of whey protein, ice, water, tablespoon of almond butter, berries and a dollop of 0% Greek yoghurt.
Lunch:
Two-egg omelette with red onion, peppers, rocket and a slice or two of a heavy grainy bread, often with peanut butter on the second slice. Coffee.
Swim:
An electrolyte drink poolside and a banana after.
Snack:
One or two rice cakes with nut butter and honey, plus an apple.
Dinner:
Grilled chicken breast, baked sweet potato and loads of salad (greens, tomato, avocado, pumpkin seeds, peppers, red onion). A yoghurt and a square or two (or three) of dark chocolate.
Before bed:
A small handful of mixed nuts.
"The more years that go by, I can't imagine now working in an office five days a week," said the 2011 Long Distance Triathlon world champion.
"I appreciate that I did law for six years and I don't ever wish that I'd got into triathlon sooner because it makes me all the more appreciative of what I am able to do and call it my job now."
The six years since she turned her back on job security and a regular income have not been easy financially.
Joyce still wasn't making a living from the sport when she went to the annual Ironman World Championship in Kona, Hawaii, 12 months after turning professional.
"I didn't have any sponsors, I had been lent a bike to race on but I was operating on a massive loss. I arrived with about £50 left in my bank, so it was boom or bust," said Joyce of the 2009 event.
She finished sixth that year and it was a real turning point.
"A team got in touch and that was a big change. I was actually getting paid and making a living from the sport rather than making just enough to pay my travel and living expenses."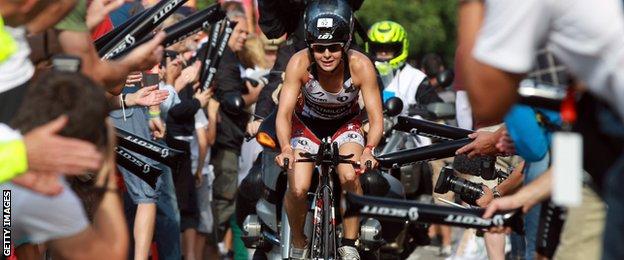 Joyce admits she would probably be making more money had she stayed in law, but also says the enjoyment she takes from her sport makes the financial trade-off an irrelevance.
Coming from a swimming background, Joyce has made a successful transition to Ironman racing, which involves a 2.4-mile swim, a 112-mile bike ride, then a 26.2-mile run.
For the early part of her triathlon career, she used London as a base, but she now lives and trains full-time in the triathlon mecca of Boulder, Colorado.
"There are many things I love about London, but it's not conducive to the ultimate training place for triathlon with the weather and traffic," Joyce said.
"In Boulder, you have the benefit of training at altitude, the riding is incredible as there are no traffic lights and you are surrounded by the world's best athletes. That's an inspiring environment to be in."
A typical big training day schedule
06:00-06:45:
Breakfast
07:15:
Approximately 75-80 miles on the bike - including a combination of intervals on a hill, followed by a 25-mile mixed effort on flatter terrain
10:30:
Run 10 miles, getting progressively harder. Her coach allows her seven minutes between finishing the bike, changing and starting her run
12:00:
Shower followed by lunch
13:30-14:30:
An easier, aerobic swim (3-4km)
15:00:
A short 40-minute strength and conditioning workout
16:00:
Snack
18:00-19:00
: Dinner
21:00:
Bed
In a typical week, Joyce will spend around 30 hours training across all three disciplines - including 15 hours on her bike - but she says she does not ever get bored after hours in the saddle.
"When I have a lot of intervals, I'm pretty focused and it's almost like a race. I'm just thinking of the next five or 10 minutes. It's all about how fast you're going; how you feel and keeping on top of nutrition.
"There are other training sessions when I'll go out with friends and we'll talk about anything. Usually it involves exchanging recipes and talking about what we'll cook for dinner. You can talk about an awful lot in five hours."
One subject that Joyce is very vocal about is equality in her sport.
At the Ironman World Championship there are currently more starting places for professional men than women and that is something Joyce wants to change.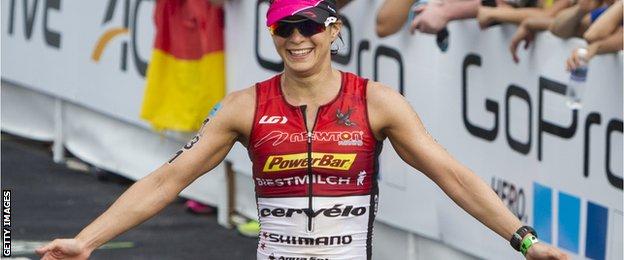 "I think it's antiquated and out of date to have that massive discrepancy at the top of the sport," she said.
"How do you explain to a 10-year-old coming into the sport why there are only 35 women at the Ironman World Championship, and not 50 like the men?
"They aren't going to understand about participation statistics. I think you can increase women's participation in sport by showing equality right at the top."
For now though, Joyce's focus is on this year's world championship in Hawaii, where she hopes to continue the successful run of British women in long-distance racing.
Joyce's normal training week

Swim:

6hr 15min (25km)

Cycle:

15hrs (300-400km)

Run:

8hrs (70-80km)

Strength and conditioning:

4hr

Massage:

1hr 30min

Physio/chiro:

1-2hr
She will be joined in Hawaii by 2012 Ironman world champion Leanda Cave, multiple duathlon world champion Catriona Morrison and former Ironman 70.3 world champion Jodie Swallow.
Multiple Ironman champions Corinne Abraham and Lucy Gossage will be making their debuts in the professional World Championship race.
Joyce's best performance came in 2013, when she finished second to Australia's Mirinda Carfrae, who overtook her 15 miles into the marathon.
But the Briton hopes to go one better this year and believes she has improved in all areas as she prepares for the race.
"I've been working on my bike and my run and I feel like I am in a much stronger position to be able to put together a really strong marathon now," she said.
"I've had pretty steady progress and my goal is to win Kona. I think it would be a celebration not just for me but for everyone who has been involved in my progress."