Aileen Reid warms up for ITU Series with fifth spot in San Diego
Last updated on .From the section Triathlon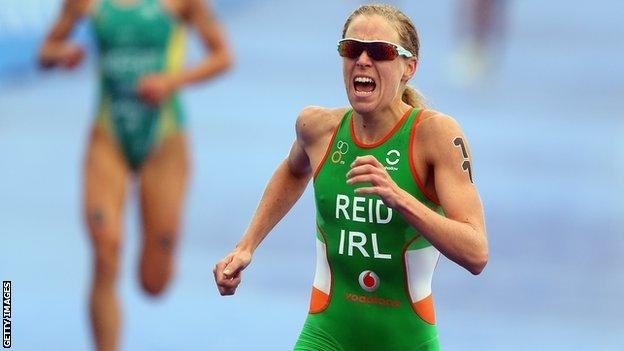 Derry triathlete Aileen Reid continued her build-up to this year's World Series by finishing fifth in the Tinonman event in San Diego.
Reid finished one minute and 22 seconds behind American winner Summer Cook who came in 18 seconds clear of British runner-up Jodie Stimpson.
Two other Americans Lindsey Jerdonek and Jessica Broderick also finished ahead of the Londonderry woman.
Reid will compete in the opening World Series event in Abu Dhabi on 7 March.
In San Diego, Reid got off to a good start in the race with an eight minutes and 37 second swim split, which saw her emerge from the water in sixth place.
A poor first transition saw her lose time to the rest of the field but a strong bike leg, the quickest of the day made amends for that.
Reid then clocked 17 minutes and 16 seconds in the run as she finished fifth overall.
In the men's event in San Diego, Ireland's Conor Murphy finished in a creditable fifth place.
Reid has committed to competing in the opening three World Series events in Abu Dhabi, Auckland and the Gold Coast.
Following those events, she will map out her remaining programme for the season.
Reid finished eighth in last year's World Series.