Javier Gomez bids for title at World Triathlon Grand Final
Last updated on .From the section Triathlon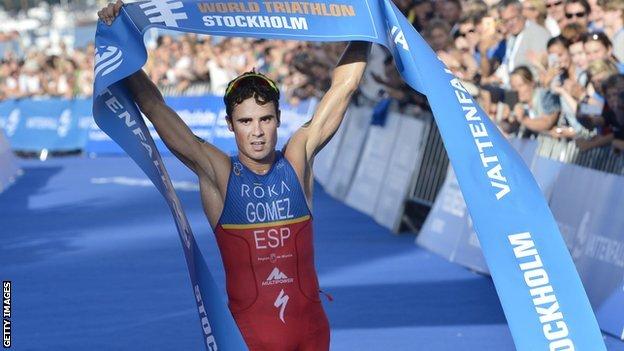 ITU World Triathlon Grand Final
Location:
Chicago
Date:
18-19 September
Women's race coverage:
Live on the BBC Sport website and connected TV, 18:45-21:00 BST. Red Button, 23:00, Friday, 18 September. Highlights on BBC Two, 15:00-16:30, Saturday, 19 September
Men's race coverage:
In full on BBC Two, 23:30 BST, Saturday 19 September. Highlights on Red Button 12:30-13:30 BST and BBC Two 16:45-17:45 BST, Sunday 20 September
Last year he won two world titles in less than a week.
This weekend, Javier Gomez is aiming to become the most successful triathlete in ITU history.
In Britain, the Spaniard may be best known as the meat in a Brownlee sandwich after his London 2012 silver medal.
But away from the Olympics it is he, not Alistair and Jonny, who is setting the gold standard.
A third-place finish in Saturday's Grand Final in Chicago will guarantee Gomez, 32, his third successive ITU World Series crown, his fifth in total and will move him one clear of Britain's Simon Lessing, who dominated the governing body's events in the 1990s.
However Gomez's abilities stretch beyond the 1500m swim, 40km bike and 10km run that define the Olympic discipline.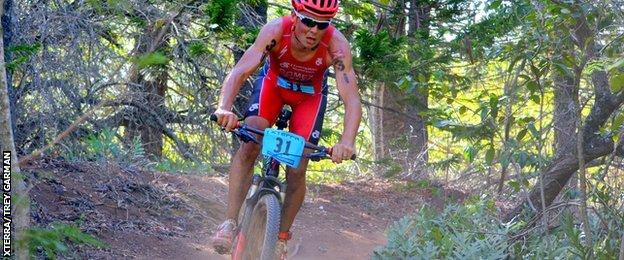 In 2012 he won the Xterra World Championship - a kind of off-road version of the Olympic event in which participants negotiate choppy sea waters before mountain biking a twisting, undulating course and finishing with a trail run.
In 2014 he clinched the Ironman 70.3 World Championships - moving up in distance to beat the world's best over a 1.9km swim, 90km bike ride and 21.1km run.
He also won on his debut over that distance at the European Middle Distance Championships in Barcelona in 2013 and has victories in prestigious non-Olympic distance races such as the 2013 Escape From Alcatraz on his CV.
This is all as a bit of a break from his bread and butter.
"It is more for fun. I try to win when I go to these events but all my training goes to Olympic distance," he said.
"I have been racing in ITU events at a high level for the last 10 years and I also enjoy doing different things, different distances.
"It keeps me excited, I learn new things about the sport and myself.
"Riding a mountain bike gives you skills to control the bicycle better. When you do longer distances like half Ironman, you race for four hours and you get to know yourself better - when you need to refuel, how your body reacts and, mentally, you are out of your comfort zone."
Gomez's success in triathlon's many guises and his clockwork consistency - he has made the podium in seven of the eight World Series events he has taken part in this year - are a contrast to Alistair Brownlee's modus operandi.
Javier Gomez
Alistair Brownlee
Jonny Brownlee
Age

32

27

25

WTS Starts

47

29

30

WTS Wins

12

19

10

WTS Podiums

35

23

22

World Series titles

4

2

1

London 2012 finish

2nd

1st

3rd
Britain's Olympic champion, still only 27, has so far restricted himself to Olympic-distance events, although he hinted that he might test himself over longer distances after Rio 2016.
When he does compete at his best, Alistair's scintillating speed often leaves the rest of the field, including Gomez, lagging.
But the intense, specialist training behind that surging pace has also been fingered as a possible cause for his and Jonny's persistent run of injuries.
Alistair will be absent from the starting line in Chicago as he recovers from ankle surgery. Jonny won in early-season races in Auckland and the Gold Coast, but has only just returned to action after a stress fracture in his leg.
Gomez's durability and reliability is well suited to the World Series format in which points are accumulated over the season. His ability to adapt to deliver victory in different formats and conditions is undeniably impressive.
His supporters might argue that staying injury free through careful management of training workload is part of the sport.
But will history favour the Brownlees' more focused, big-occasion brilliance when it comes to judging triathlon greatness?
Gomez is not being drawn into the debate.
"If you can do different events it means you are a strong all-round athlete, but it doesn't mean that you are better than someone who is more specialised," he said.
"I have been on the world series podium for the last eight years, raced against different generations of athletes and the Brownlees, and especially Alistair, are the toughest rivals I ever had.
"If I want to beat them I have to be 100% , everything has to go perfect in the race. They beat me many times, I have beaten them a few times as well. It is a great rivalry for the sport."
Polite, modest, articulate - Gomez is not about to trash-talk his way into enmity either.
Where fatigue and fierce rivalry coincide though, there are bound to be occasional tensions.
Alistair accused Gomez of "bad form" after tripping over his heels in the run leg of the Cape Town event in April.
Did you know?
If it was not for a London doctor, Javier Gomez's triathlon career could have been over before it had really begun.
A defect with one of Gomez's heart valves was detected in December 1999 and the Spanish federation revoked his licence to race internationally, barring him from international competition.
One of Gomez's key allies in his four-year fight to eventually regain his licence was cardiologist Professor William McKenna - based at University College London. "He studied my case and even came to Madrid to discuss with other specialists. He was a big, big help and I am really grateful for everything he did," said Gomez.
But in the next event in Yokohama, Gomez prevailed in a brutal sprint-finish duel and Brownlee tweeted his congratulations.
Alistair, Jonny and Gomez have all even been colleagues in an all-star team at the French Grand Prix event.
"It is obviously a big rivalry between us, but I respect them a lot. They are great athletes and good guys and I'm sure they respect me as well. It's a pretty good relationship," added Gomez.
"I am sure they will be back for the Olympic Games in Rio and it will be a great battle."
Attention will switch to that showdown - on the penultimate day of the Games - as soon as the medal ceremony is over in Chicago.
Gomez won on a test event around the course, in Alistair's absence, earlier this year. A repeat in 2016, this time with both Brownlees in the field, backed up by a record fifth world title, would make his claims to be the world's best triathlete difficult to resist.