Jodie Stimpson wins Triathlon World Cup event in Australia
Last updated on .From the section Triathlon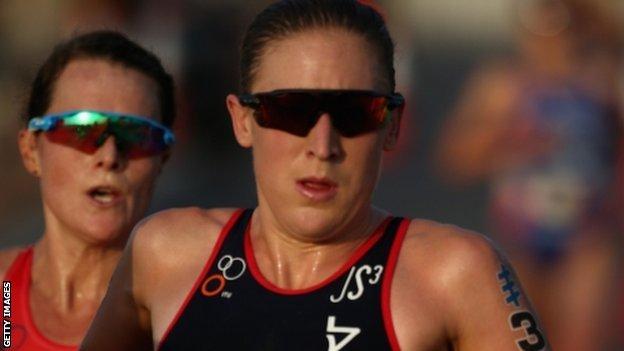 Britain's Jodie Stimpson claimed her second victory in two weekends after winning over the shorter sprint distance at the Triathlon World Cup in Australia.
After a strong 750m sea swim in Mooloolaba, Stimpson joined the lead group of 10 women on the bike.
She then made a move early in the 5km run to set up the victory, finishing 17 seconds clear of Australia's Emma Moffatt.
Spain's Mario Mola won the men's race.
Stimpson, who won last weekend's World Triathlon Series in Abu Dhabi, will battle with Wales' Helen Jenkins for Britain's third Olympic place at the next World Series event on Australia's Gold Coast on 9 April.
"It's great to back to back in Mooloolaba," she said. "It's like a home race - I've spent a lot of time here since 2009. It's a nice feeling to be back here.
"I got second last time I was here to Annie Haug, so it's nice to get the win."