Georgia Taylor-Brown wins Triathlon World Cup in Madrid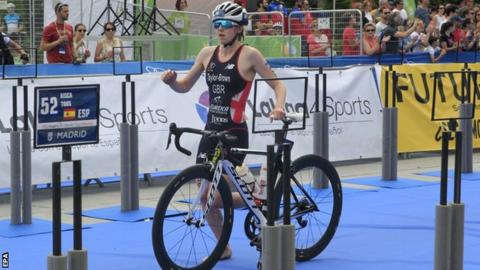 Georgia Taylor-Brown says she hoped she 'made Manchester smile' after winning her maiden Triathlon World Cup event in Madrid.
Manchester-born Taylor-Brown, 23, was competing almost a week after the arena attack that killed 22 people in her home city.
"When you come away with flowers and a sticky face, it's been a good day," she tweeted. "Hope I made Manchester smile."
America's Taylor Spivey was second.
Taylor-Brown finished in a time of two hours, eight minutes, five seconds - 51 seconds ahead of second-placed Spivey.
She held her own in the swim, finished in a leading pack of eight after 40km on the bike and increased a slender lead over four laps in the run.
"It was one of the hardest races I've ever done in my career, but also one of the best ones," added the 2012 European junior champion.
"I loved the atmosphere, the hilly circuit and I just tried to save some energy during the bike for the run course, which I knew it was going to be also really hard."