Tim Don: Ironman world record holder injured in Hawaii car collision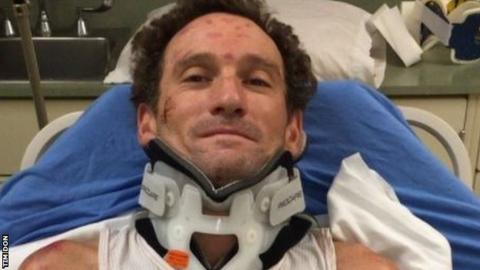 Ironman world record holder Tim Don is in hospital after suffering a neck fracture in a collision with a car.
The Briton, a former world triathlon champion, was injured in Hawaii before this weekend's Ironman World Championship and will miss the event.
He was reportedly riding his bicycle along the Queen K highway near the Kona airport when the incident happened.
"Unfortunately I got hit by a car this morning and I have a fracture in my C2 vertebrae," said Don, 39.
"The good news is I don't need an operation. The bad news is I'm out for the best part of five or six weeks in a brace."
Londoner Don, who is now based in the United States, won the ITU world triathlon title in 2006.
He later switched to Ironman triathlon, setting a world record in Brazil in May of seven hours, 40 minutes and 24 seconds for a 2.4-mile (3.86 km) swim, 112-mile (180.25 km) bicycle ride and a 26.22-mile (42.20 km) marathon run.