South African triathlete Mhlengi Gwala in hospital after attack with saw
Last updated on .From the section Triathlon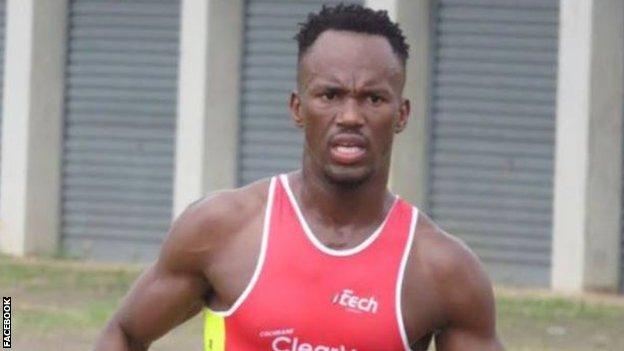 South African triathlete Mhlengi Gwala has reportedly been attacked while training by three men attempting to cut off his legs with a saw.
Gwala's training partner Sandile Shange told the BBC the 26-year-old is stable in hospital and his injuries are not life-threatening.
The attack reportedly happened in the early hours of Tuesday in Durban while Gwala was on a training ride.
The men cut into both of Gwala's legs before he was able to escape.
Police spokesperson Nqobile Gwala told the BBC that a case of attempted murder is being investigated.
"He thought they were coming to rob him, stopped and gave them his phone but they didn't want his phone, didn't want his watch or bicycle," Shange said.
"They dragged him to the side of the road to some bushes, took a saw and started cutting his legs.
"They kept on cutting and when they got to the bone, because the saw was not that sharp, the saw got stuck. When they saw it was getting stuck they started on the other leg."
South African Olympic triathlon bronze medallist Henri Schoeman called the incident "disgusting" on Twitter.
Gwala was due to compete in the South African national championships this month.
"When he spoke to doctors they said they will be able to save his leg and he will be able to walk and run again but it is a long walk to recovery," Shange said.